We've said it before, and we will continue to say it: debut novels are exciting! The thrill of a new style, characters you've never met before, new themes and perspectives, and the chance to witness the advent of a rising literary star's career… there are so many reasons to give a new author a try.
While we will continue to promote and celebrate a particular, noteworthy debut each month, we'll also be keeping a keen eye out for other bright new voices. Here are three impressive new debut novels with which to sate your taste for all things new.
Geiger by Gustaf Skӧrdeman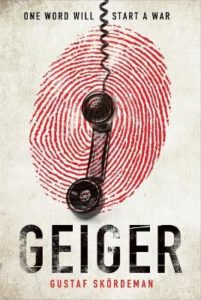 This high-concept spy drama stands poised to become one of 2021's most mentioned thrillers: with its heady central mystery, its ingenious plotting and finely wrought political and historical detail, Geiger makes for a truly memorable combination of Scandinavian Noir and engrossing espionage. Some say that it might just rival The Girl with the Dragon Tattoo.
Just as she is saying goodbye to her grandkids, Agneta's phone rings. The voice on the other end says just one word to her: "Geiger". She has been prepared for this for some time. Retrieving her silencer and gun, Agneta creeps up on her eighty-five-year-old husband and shoots him once through the head. She then disappears, leaving absolutely everything behind.
Investigator Sara Nowak insinuates herself into the case in spite of restrictive regulations. Nowak knows those involved quite well. What she does not know, however, is that a single word, spoken to an elderly woman, is just the tip of a complex and horrifying thread that leads fifty years into the past.
Extensively researched, achingly tense and made of layers flavoured with everything from reunified Germany to international terrorism, from political corruption to far-reaching sexual abuse, Geiger's deep well of dark and clever thrills is near-bottomless.
For more, check out this review.
Raft of Stars by Andrew J. Graff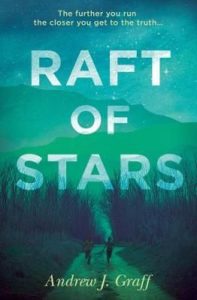 The wilderness is seldom this well-written. Raft of Stars is a coming of age adventure that's genuinely beautiful – a grand tale of childhood, heartbreak and life's mysteries that tugs at the heart while it hypnotises the senses. It's a debut fit to rival the success of Where the Crawdads Sing.
Dale Breadwin and Fischer Branson, two ten-year-olds growing up in the wilds of Wisconsin, are best friends in the truest sense. But Fischer (Fish) is tired of seeing his friend repeatedly abused by his alcoholic father. Eventually, Fish can take it no longer… and a single gunshot is all it takes to change everything forever. The two boys flee the scene, disappearing into the woods, eventually building the raft they hope will carry them safely through the natural terrors of Ironsforge Gorge.
As they venture farther and farther into the overwhelming landscape, unknown to them, they are pursued by a group of adults determined to save them from the dangers they steadfastly brave. The four trackers – a sheriff, a poet, a faithful mother and a seasoned woodsman – are each on their own particular quest to unite elements of themselves and reality.
Hopes and resolves are tested as the boys voyage farther from the tame world into a realm of violence and beauty. Before they reach the edge of the gorge, everyone on this profound and improvised journey will be indelibly changed.
With exquisitely rendered characters and a heart as boundless as the wilderness itself, Raft of Stars will leave you sincerely moved.
For more, steep yourself in rave reviews here.
The Plague Letters by V.L Valentine
And now for a historical thriller dripping with horror, humour and sinister wit. The Plague Letters whisks us back to the gruesome streets and forbidding palaces of London in the mid 1600s, where waits a mystery more arresting, and more morbid, than the Black Death itself.
While the plague rips sickeningly through England's capital, baffling the medical elite and condemning an entire population to unspeakable suffering, a force even more insidious, even more inhumane, plies its abominable trade.
As the corpses pile up in Rector Symon Patrick's churchyard, the clergyman makes a discomfiting discovery. Among the heap of poor casualties hides a victim of another kind entirely: a young woman shaved, covered in burns and bound at the wrists and ankles. Someone out there is experimenting on the dying, concealing them among the cartloads of those falling to the pestilence.
Symon quickly joins a society of maverick medical men, desperate to find the culprit, but, somehow, it turns out that the only one capable of tracking down this ghoulish killer is not one of these hotshot physicians but a mysterious new member of Symon's own household… a woman whose hunt has already begun.
Infectiously entertaining, chillingly gorgeous and expertly evoked, The Plague Letters is as convincing as it is fabulously ghastly.
And here's an ecstatic review, should you remain unconvinced.
Be the first among your pals and partners to partake of these exemplary new reads.
Happy Reading!