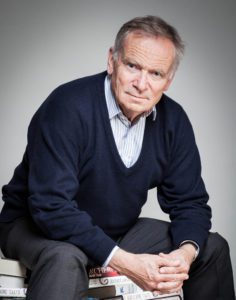 Archer certainly needs no introduction. His reputation as a master storyteller stretches even as far as to those who have never read him. His has been an unusual life, though – and one cannot help but be struck by how much insight his particular journey must have granted his books. Archer's classic brand of intrigue, drama and mystery is deeply informed by his years in politics, historical fact and, of course, by the stretch he spent in prison. With this new novel, he brings us the thrilling, thoughtful third part in the William Warwick series.
About William Warwick
The William Warwick series unfolds in the same way as Archer's beloved Clifton Chronicles – by tracing the life of its protagonist through loves and tragedies, career and family, gripping twists and hard-won triumphs.
To begin with, Warwick is an intelligent and driven detective, but he has a good deal to learn about the world. Surrounded by an orbiting cast of family, friends, colleagues, villains and love-interests, his relative naïveté is often tempered, and exploited, by those whose paths cross his own.
When we first meet William Warwick, he is defying the wishes of his father, insisting on becoming a detective with the London Metropolitan Police rather than becoming a lawyer like his QC father and his sister. His determination to join the police, lands him fairly quickly in a high-stakes art and antiquities case.
By the time we encounter him in Turn a Blind Eye, Warwick has been changed by the world that he opted to inhabit… and now he is equipped to deal far more directly with the darkest that London can produce – and with the corruption of those tasked with fighting it.
Turn a Blind Eye (William Warwick #3)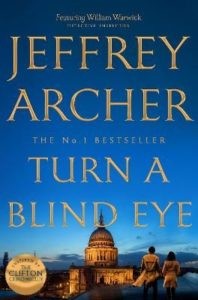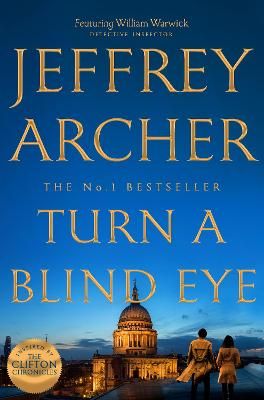 Having recently gained the rank of Detective Inspector, Warwick is plunged into a dangerous new assignment. In order to expose the corruption that has seized the heart of the Metropolitan Police Force, Warwick must go deep undercover.
The surest way to advance the case is to tail Detective Jerry Summers – a young member of the force whose excessive lifestyle appears wildly incompatible with the salary of a police officer. Things are complicated, however, when one of Warwick's deputies falls for Summers and the corruption that they are investigating begins to spread before their eyes.
Meanwhile, Warwick's QC father, Sir Julian, and his sister, Grace, are prosecuting a case against notorious drug baron Ahmed Rashidi, and his wife, Beth, has made friends with the ex-wife of one of Warwick's most ingenious and longstanding criminal rivals. As Beth's new friendship and Rashidi's trial begin to circle ever close to Warwick's undercover investigation, he starts to understand that more of his colleagues that he ever could have expected are willing to turn a blind eye to the unforgivable.
With its devotion to drama that is just as driven by character as it is by action, through the ever-evolving determination of its singular protagonist, and thanks to the impeccable craft of its author, Turn a Blind Eye is a riveting read that will leave you wanted more of Warwick and his increasingly dangerous exploits.
Previously in the William Warwick Series
Nothing Ventured (William Warwick #1)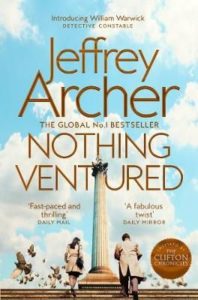 Fresh out of university, Warwick spends some months as a humble beat cop, under the watchful eye of mentor Constable Fred Yates. Before long, he becomes part of his first important case.
When a priceless Rembrandt painting is stolen from the Fitzmolean museum, Warwick becomes part of the investigation… and his first act as an investigating officer is to fall hopelessly in love with gallery research assistant Beth Rainsford – whose own unshareable secret guarantees that all is not straight forward.
Warwick's hunt for the missing masterpiece eventually brings him up against Miles Faulkner, an urbane and single-minded art collector guarded by his unerring lawyer, Booth Watson QC. This brilliant, intimidating duo is willing to thoroughly dismantle the law simply to stay ahead of Warwick and his investigation. Meanwhile, Faulkner's wife befriends Warwick… and her motives are indecipherable.
As an introduction to the life and career of William Warwick, and as the grand reveal of a brilliant villain who will come to shape Warwick's career and life in ever-changing ways, Nothing Ventured kicks off a new series destined to be every bit as moreish as hit saga, the Clifton Chronicles.
Hidden in Plain Sight (William Warwick #2)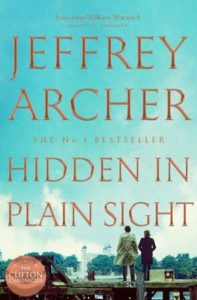 Following the conclusion of his first case with the art and antiquities squad, William Warwick has been promoted to Detective Sergeant and reassigned to the drug squad – where the villains may not be so suave and cool-tempered. His first investigation sends him on the trail of notorious South London drug lord, The Viper.
As Warwick and his team methodically cast a heavy net over the complex and nefarious criminal network of which The Viper may or may not be the central figure, Warwick once again comes into contact with old nemesis Miles Faulkner – whose involvement is not immediately apparent, but who wields an influence nonetheless. Warwick will have to find a way to bring these two men to justice, a way just as cunning and devious as his enemies. He comes up with a trap. A trap that neither will expect… a trap hidden in plain sight.
Packed with the juicy twists and turns that have made Archer a household name, and as devoted to character-driven drama and intelligent thrills as its precursor, Hidden in Plain Sight is a fantastically enthralling read.
Happy Reading!