Debut novels. They are a tricky prospect. Oftentimes, they'll be the best novels you could ever hope to read. The promise of a brand new style, a new voice, and a story that so needed telling that it prompted an author to brave the unforgiving wilds of the publishing industry… these are all tantalising. They also have to contend with the dual forces of marketing and inflexible preference. So, when one comes along that generates a certain buzz, we'd do well to pay attention.
Here are a couple of especially exciting debut novels to add to your watchlist.
The One Hundred Years of Lenni and Margot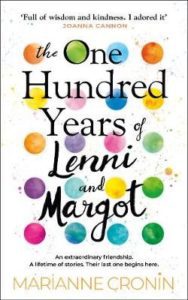 The brevity of life is something with which we all must grapple: the old and the young, the wise and the foolish… but especially those approaching their end.
Seventeen-year-old Lenni has not had a lot of time to navigate this issue. Living on a terminal ward has a way of starkly illuminating the shortness of the journey. But she still has time to learn, and what she is about to learn is this: time shared is time better spent.
Defying her doctors, Lenni joys an art class and quickly strikes up an odd friendship and forms a bond with eighty-three-year-old Margot. Between the two of them, they realise, they have lived one hundred years. And the only thing to do with that fact is to celebrate it.
Palettes and brushes at the ready, they determine to paint their life stories, sharing and illustrating all the loves and losses, joys and sorrows, courage and confusion contained by their joint century. As their friendship intensifies through art, recollection and speculation, Lenni and Margot come to realise that, in spite of their environment, they still have plenty more living to get busy with.
The One Hundred Years of Lenni and Margot is a testament to so many things, but chiefly it tenderly portrays the unexpected turns that life can take even as it is about to leave us. Upliftingly funny and boundlessly gentle, this is a vivid reminder of the good stuff, of the beautiful capacities that we retain no matter what.
Recommended for fans of Joanna Cannon, Matt Haig and Sarah Winman.
The Push by Ashley Audrain
The idyllic side of motherhood is one that is continually foisted upon us from every side. Tv show after tv show, movie after movie and, predictably, advert after advert, would have us believing that it is a universally wonderful experience. But what about the darker side of it?
Blythe Connor's own mother never provided her with much warmth or love. Thus she is determined that for her own daughter, Violet, she will be everything that her mother was not and more.
But early into her motherhood, exhausted and doubting her capacities, Blythe becomes convinced that there is something wrong with her daughter… that she is not quite like other children.
Her husband, Fox, thinks it's all in her head, and as those around her continue to dismiss her concerns, it isn't long before she begins to question her sanity herself… as do we. However, when her second child, Sam, comes along, Blythe is finally gifted the deep, natural connection she has so been craving. Violet too seems to love her new brother. But all that changes in a single devastating instant. The truth can no longer be denied… but facing it full on is not going to be easy.
Immersively, chillingly tackling the sinister side of motherhood, the idea that we can ever fully know our children, and the trials women face when they are not believed, The Push is a psychological thriller with a difference.
Taut, raw and urgent, The Push will simply not be ignored; it seems poised to become a sensation.
Happy Reading!
Daniel Foyster
03/2021