This month, every customer who buys a copy of our Book of the Month will get the chance to win a fabulous and exclusive prize: two luxurious nights at Thula Thula Game Reserve. More details on that below, but first, a little about the book.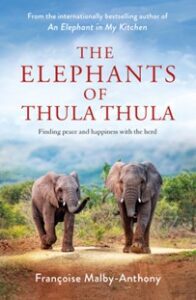 Even though it's brand new, there is a chance that this book will seem familiar to you. The cover style, certainly, the elephants – always a terrific subject – but most particularly, the author. And that's because Francoise Malby-Anthony was the wife of the late Lawrence Anthony – The Elephant Whisperer. Their conservation efforts and their work with troubled elephants is legendary. She, of course, is a noted author herself. Her previous book, An Elephant in My Kitchen,  detailed her personal road to conservation and her efforts to keep Thula Thula flourishing following the death of Lawrence. It's an effervescent memoir filled with humour, poignancy and much natural wonder.
She returns now to bring us another very special slice of elephant wisdom and to treat us to another episode in the always fascinating life of this spectacular game reserve.
'Somehow, the elephants got into my soul, and it became my life's work to see them safe and happy. There was no giving up on that vision, no matter how hard the road was at times.'
The elephants of Thula Thula have plenty of space to roam about in. About four thousand hectares of it. Which is why Francoise was surprised to find the formidable matriarch of the herd, Frankie, eating the flowers in her garden. What could be the reason for this? Is it a message of some kind, a concern being communicated? This is just one of the recent developments at Thula Thula. Also charmingly documented in this new book is a situation with a misbehaving young rhino, the ongoing poacher problem, Francoise's battles with bureaucratic overload and the threat posed by the pandemic, the attempts of a mining company to access her land and, most wonderfully, a new arrival: an endangered Cheetah named Savannah.
As before, The Elephants of Thula Thula lingers insightfully on everything that elephants – and a life suffused with nature – can teach us about resilience, community and foresight. It is, much like Thula Thula itself, a nature-lover's dream. It's also an important look at just what it takes to keep such essential conservation going.
And Now: The Competition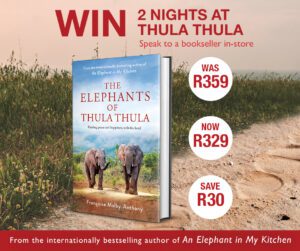 All you have to do to enter the prize draw is to buy a copy of The Elephants of Thula Thula at any Bargain Books and leave your details with a bookseller. Simple.
The competition will run throughout September and the winner will be randomly chosen at the beginning of October.
And here's what you could win:
The Luxury Tent Package for 2 adults, for 2 nights at breathtaking Thula Thula Reserve.
Breakfast, lunch and dinner are included, as are all transportation costs and morning and afternoon game drives.
Sounds pretty fabulous, right? Just imagine being able to read the book about Thula Thula while you are actually in Thula Thula. Very special. You might even get to see the animal characters Francoise has written about.
Ts & Cs apply, of course, and those you can find Here.
And why not check the place out first. (You know, in case you don't already think it sounds utterly amazing.)
Good Luck!
And Happy Reading, As Always.