Baldacci thrillers come in a variety of flavours. His newest novel, A Gambling Man, publishes this week, proves this by following Aloysius Archer for a second time. In contrast to the delicious depravity of his other most recent series, the Atlee Pine books, Aloysius Archer novels take place in 1940's America and are palpably inspired by the hard-nosed noir-inflected detective classics of Raymond Chandler and Dashiel Hammet.
With the Archer novels, Baldacci does a beautiful job of evoking small-town post WWII America in all its boundless ambition, political intrigue, shifting norms and shattered lives… all of which create the perfect hotbed for murders, mysteries and scandals.
A Gambling Man (Aloysius Archer #2)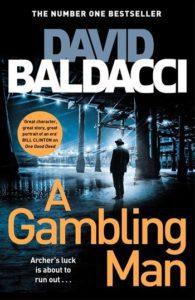 It's 1949 and, after a near fatal misadventure, war veteran Aloysius Archer is after a new start in California. The far-west is a place of limitless opportunity, a land of riches and reinvention. A place to flourish… either through good honest work or criminal ingenuity.
Archer is making his way to Bay Town, where he'll be taking a job with a famous Private Investigator and getting things back on track. Feeling an oncoming change of fortune, Archer stops off in Reno to hit a casino – and wins a flashy new convertible in which to finish his journey west. And that's not all his new lucky streak brings him. He also meets aspiring actress Liberty Callahan, who joins him for the ride, on her way to Hollywood.
But the reality of things soon kicks in when Archer arrives in California's fraudulent Mecca and is greeted by rampant corruption, desperate profiteering and the unfortunate truth that he is not the only one looking to escape a shady past.
Archer's first case with PI Willie Dash flings him headfirst into a messy and destructive political scandal. It begins as a case of blackmail, but soon spirals into more sinister territory. As the body count starts to pile up, Archer is compelled to dig deep into Bay Town's sordid underbelly, infiltrating a dark world of sexual exploitation, drugs, illegal gambling and rotten foundations. This is not the fresh paradise of which he had dreamed: this case seems intent on dragging him closer to hell than ever before.
Stylish, thrilling and teeming with entrenched intrigue, A Gambling Man adds more layers to Baldacci's appeal and offers a dark escape into simpler, but no less complicated, times.
Previously….
One Good Deed (Aloysius Archer #1)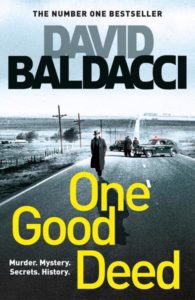 Archer's arrival in dusty, unprepossessing Poca City is anything but triumphant. He's just finished a stretch in prison for a crime he did not commit, and the horrors he witnessed in wartorn Italy still have a hold of his head. By the time he makes it to the parched town that is to be his new home, he has nothing but a handful of dollars, the shirt on his back and an upcoming parole meeting. And he's been told little more than what not to do: no drinking, no going to a bar at all, no women of disrepute.
Unknown to Archer, the small town of Poca City is already embroiled in a conflict that is about to turn deadly. Business tycoon Hank Pittleman is the first to offer Archer a new opportunity. The proposition is simple: collect debts owed to Pittleman and get paid handsomely. But Hank's dealings are packed with spiteful grudges, scheming associates and more than a little rage.
When Archer stumbles upon a murder, it doesn't take long for local police to collar him. He's an ex-convict, new in town… who better to pin the murder on. Everyone in the service is part of Poca City's festering secret and, unless he can find the real killer, Archer is going straight back to prison because of it.
Elsewhere in the Baldacci-sphere…
Daylight (Atlee Pine #3, 2020)
FBI Agent Atlee Pine's relentless search for the truth continues in her third fiery, brain-teasing outing.
Atlee Pine's career has been defined by the worst thing that ever happened to her. Her sister Mercy was abducted when she was just six years old. Ever since, Pine has positioned herself as a hunter of all evil and her hunt for her sister and the man who took her has been all encompassing.
At last Pine receives a promising lead: nothing less than the identity of her sister's kidnapper. But this lead happens to coincide with a high-stakes military investigation – an investigation that draws her into a dangerous global conspiracy.
Pine doesn't know that she'll be able to get out of this investigation in one piece, much less whether she'll be able to track down kidnapper Ito Vincenzo at the same time. Could it be that Vincenzo and this global conspiracy have something in common? Gathering her allies, Pine descends into a morass of deceit that threatens democracy itself.
A Minute to Midnight (Atlee Pine #2, 2019)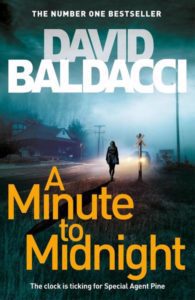 With Long Road to Mercy, Baldacci introduced us to gifted and relentless FBI Special Agent Atlee Pine – a tenacious hunter of those who hurt others, haunted by the loss of her twin sister to a notorious serial killer. Now she's back and her continuing quest for justice and healing is about to lead her headlong into a new web of secrets… and a fresh new string of deadly threats.
A Minute to Midnight opens in a maximum security prison, with Pine visiting the monstrous serial killer Daniel Tor. This is the man, she is convinced, responsible for the disappearance of her twin sister, Mercy, when she was just six years old. Subsequently, she returns to her hometown in Georgia to revisit the site of Mercy's kidnapping, hoping at last to lay her demons to rest.
But just as she is reopening the investigation, a woman is found ritualistically murdered, her head covered by a veil, and, when a second victim soon shows up, Pine finds herself with a more urgent and deadly case on her hands. The hunt for this new killer has her digging ever-deeper into the past of her hometown, uncovering secrets that are more dangerous than she could have imagined.  Could these brutal new murders have something to do with what happened all those years ago?