This month, we thought we'd go with something thrilling. And then we saw that there are two enormous thrillers new to the shelves this month and, rather than attempting to choose between them, we thought we'd feature them both. So, if you're into shocking twists, sleek storytelling and action-packed thrills, take a look at the newest titles from two of the biggest names in the thriller world.
23rd Midnight by James Patterson and Maxine Paetro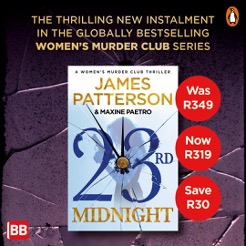 23 novels have now featured Lindsay Boxer, the tireless detective, Cindy Thomas, the intrepid crime reporter, Claire Washburn, the wise Chief Medical Examiner, and Yuki Castellano, the passionate District Attorney (though Yuki, for the record, joined in the 4th novel). And now…
Detective Lindsay Boxer, along with her circle of expert colleagues and friends, the inimitable Women's Murder Club, is back.
Evan Burke, the country's most appalling and prolific serial killer, is safely locked up in prison. He was put there by Lindsay Boxer herself. Interest in him and his crimes is hardly dwindling, however. Thanks to a bestselling book on Burke by Boxer's friend crime reporter Cindy Thomas, there are some whose obsessions have kicked into deadly overdrive. A disturbed Burke superfan has taken it upon themselves to recreate some of Burke's most notorious horrors. And they clearly know what they are doing.
While Thomas is off promoting her book, Boxer is having trouble tracking down their biggest copycat suspect. Whoever the copycat is, they're proving themselves a devastatingly capable disciple of the worst perpetrator Boxer has ever encountered… and Thomas feels dangerously connected to it all.
Meanwhile, ace prosecutor Yuki Castellano is working a domestic abuse case that shocks even those who've seen it all.
Snappy chapters, dramatic events, no end of fast-paced twists and turns, and well-loved characters make for another terrific addition to Patterson's most stellar series. And, as always, you needn't worry about going all the way back to the start: if you're jumping into the Women's Murder Club novels right here, you will be neither confused nor disappointed. This is quintessential single-sitting thriller country right here.
Last Orphan by Gregg Hurwitz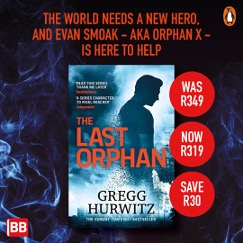 As a boy, he was plucked from obscurity and raised, and trained, as part of a top secret programme. The aim of this programme: to create deadly assassins that the government can claim to have no knowledge of. But he took the elite skills they taught him and used them to disappear. Ever since, he has been trying to reinvent himself, to purge himself of his past.
Evan Smoak, sometimes known as Orphan X, freelance assassin and unstoppable vigilante, thought he had made it out: thought he had at last severed ties with the nefarious program that raised him, thought he had escaped the clutches of the government at last. He just wanted to live his atonement on his own terms, just to create a better code to live by, a truer set of values. But there's no real freedom, not for Smoak. And once again he is being offered an ultimatum, this time by the president.
In the Orphan X novels, Hurwitz ceaselessly infuses his brand of hard-hitting action with compelling moral ambiguity, and even spiritual and philosophical complexity. The Last Orphan is no exception. Again, Smoak is forced to weigh the principle he swore to uphold – that he would only use his deadly skills against those who truly deserve it – against his own survival.
Smoak has managed to float beneath the radar for a while, but those who take an interest in him have tracked him down once again, specifically to offer him a choice: kill a man deemed by the president to be an unacceptably dangerous threat, or be killed himself – executed for the sins of his past. The president would consider it a win either way. In her mind, neither Evan himself nor the target should be alive. But for Smoak, who has been attempting to reform himself for too long already, it's an impossible lose-lose. And that's exactly the sort of situation that only makes Smoak more dangerous.
Relentlessly compulsive, explosively action-packed, and coloured with a surprising amount of emotion depth and thoughtfulness, The Last Orphan might be the best entry in the series yet. Smart, expertly crafted suspense does not get better than this.
HAPPY READING!!