So, now as much as ever, a certain amount of economic revitalisation is needed. Now is the ideal time to create and take control of your own wealth. Whether there are aspects of your personal finances that you've been planning to improve, business and investment practices that you're looking to bump up a notch or an entrepreneurial opportunity you're looking to pursue, these five books are just the thing to better your relationship with money. From simple savings advice to more complex economic concepts, there's something here for everyone.
How To Grow Rich by Douglas Kruger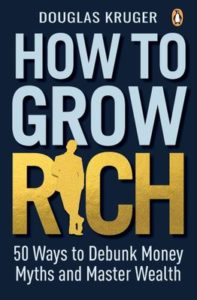 Sometimes achieving the wealth for which you've been aiming is simply a matter of changing your perspective.
With this book, business consultant Douglas Kruger explains that, despite the global narrative of deepening poverty and hardship, the last ten years have actually seen an enormous amount of people overcoming dire economic straits. This data prompts one question in particular: if that is the case, why does the opposite feel true?
By illuminating the erroneous assumptions that drive our attitudes toward wealth, clarifying the political and cultural processes that fuel this narrative of impecunity, and identifying the bad ideas that keep us all from achieving the wealth we want. There is a whole host of myths and misconceptions surrounding money, there are masses of endlessly repeated cliches, baseless claims and outright falsehoods that hobble our financial thinking. Kruger's approach is simple: identify the myths, change your thinking… and wealth will follow. It certainly is hard to argue against the impact of having the right knowledge for the job.
The 7 Things Every Young Black Entrepreneur Should Know by Karabo Che Mokoape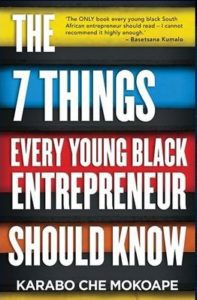 Everything the next generation of young black people needs to know about making, managing and encouraging wealth.
Speaker and entrepreneur Karabo Che Mokoape has spent his life travelling, learning and strategising. He has served on the board of more than twenty organisations and has spoken extensively in service of inspiring achievement.
With this empowering book, Mokoape distils a lifetime of strategic action and savvy investment in order to deliver an essential skill set and knowledge base upon which to build. Via this indispensable guidebook, readers can expect to learn how to: recognise and apply strengths, minimise weaknesses, develop the proper patience, navigate risks, raise funding effectively and distinguish a good opportunity from a poor one… everything needed to kick your journey towards success into the right gear.
You're Not Broke, You're Pre-Rich by Mapalo Makhu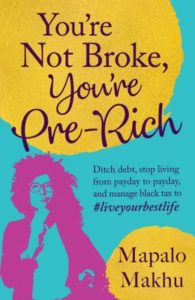 A book for anyone trying to figure out how money works and what to do with it day-to-day.
 With a particular focus on overcoming debt for once and for all, this book features solid advice from a relatable, sharply observed and often humorous voice. Think of it as the wisdom of the coolest teacher you've ever had.
It dips into many essential topics and includes advice on how to spot financial scams, what to do with your savings, how to budget effectively, recognising the impact of black tax and planning for your future… all so that you can feel confident in what you are doing while making a better life for yourself.
This is a great pick if you are often turned-off by the dry, academic language of too many personal-finance books and if a relatable, reassuring mentor is something that you're missing.
Invest Your Way to Wealth by Thobelani Maphumulo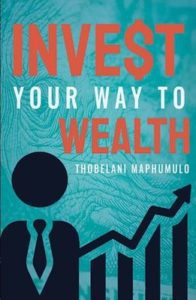 Practical, trustworthy and easy to understand investment advice from a seasoned asset-manager and strategic investor.
Knowing how to invest wisely is something that connects financially successful people across the spectrum and having and building on that knowledge is a surefire way to grow your assets and secure your wealth. With Invest Your Way to Wealth you will be able to rely upon your own developing instincts and foundational knowhow without having to rely solely on expensive consultants and services.
Providing a solid education in many aspects of the investment field, including asset classification, forex markets, the true connection between time and money, external investors, risk, property, cap rates and SMMEs, this enlightening book lifts the veil on the difficult terms and concepts surrounding investment, empowering you to independently engage in the strongest way to build capital while also keeping it safe.
 Financial Freedom Through Property by Laurens Boel
A simple and solid guide to taking control of your financial future via sensible property investment.
The thrust of this guide is simple: don't wait until you earn more, don't wait until you have saved more, the sooner you start investing the better so start small and start now.
Too many of us know the frustration of an unfulfilling job, the feeling of stagnation and the distress that comes from not being in complete control of our futures. Laurens Boel argues, and teaches us, that each and every one of us has the potential to turn that situation around any time we choose…. And that we don't have to wait until we know the right people or have the right amount of capital or have the right experience.
Covering the whole process that goes into deciding on and buying your first property, Financial Freedom Through Property has all the practical tips, insider secrets and success stories that you need to take the lead, create your own wealth and achieve fulfilling security. It shows us that you needn't be anyone or anything but yourself in order to make a future out of property: you just need the willingness to learn.
Happy Reading!
Daniel Foyster
04/04/21