Yes, it's a new month and it's time for another of our favourite debuts. This time around, it's a historical blend of mystery, romance and fantasy that draws from Ancient Greek myth. Dripping with atmosphere, glittering with historical charm and packed with compelling characters, Pandora is a treat from start to finish. Be sure to get your copy while you can.
The Book: Pandora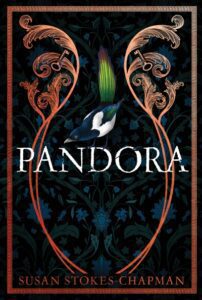 The year is 1799 and the city is London. Pandora Blake – Dora for short – works in what was once her parents' celebrated antique shop, but above all she yearns to create incredible jewellery. The shop, which she shares with her untrustworthy uncle, is a shadow of what it was when her parents were still alive. But things begin to change with the arrival of an enigmatic Greek vase. Noticing her uncle's strange and shady behaviour, Dora realises something significant is going on and enlists the help of a young antiquarian scholar, Edward Lawrence. This could be her chance to restore the shop, escape her uncle and transform her life.
But the discoveries that Edward makes about the vase offer far more questions than they do answers. This single object throws into doubt everything Dora thought she knew about her family, her past and the state of the world. Slowly, Dora starts to explore the aspects of her life that have long been kept locked up and hidden.
Steadily and ingeniously revealed mysteries, characters that inhabit grey areas and a host of cleverly interwoven threads, Pandora is a glorious debut sure to enchant anyone who ever stopped to consider the influence that a single work of art can wield on the world around it… and, of course, it there are few of us who can resist the allure of one history's most enduring myths.
The Author: Susan Stokes-Chapman
Susan Stokes-Chapman is a lover of Gothic fiction and historical romance. She has an MA in Creative Writing and is deeply drawn to the Georgian era. Among the influences for Pandora she has listed the works of Jane Austen, Jessie Burton's The Miniaturist, Sarah Perry's The Essex Serpent and Elizabeth Macneal's The Doll Factory.
Happy Reading!