Give the Gift of Escape
Which best-selling new novels are our Christmas elves most excited about? Well, read on to find out!
Nothing is as satisfying as a well-crafted story by a proven, celebrated author. When looking to leave the concerns of the day behind for a while, you can trust the five writers below to whisk you off into a fascinating, thrilling place.
If you're looking to gift a slice of gleeful escape to a loved-one this Christmas, here are some rock-solid choices. We have a couple of historical wonders, two super-smart thrillers and one lyrical tale of family and loss.
Take a look: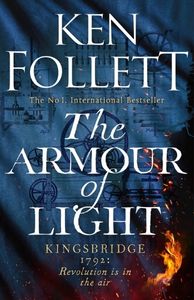 Armour of Light by Ken Follett
 There's really no disputing it. All the Christmas Elves agree: Follett is the enduring master of the rich historical epic. And any devotee of top-notch historical fiction will tell you that the Kingsbridge novels – which began with The Pillars of the Earth – are as spellbinding and as monumental as it gets. With Armour of Light, the fifth book in the series, Follett brings us right back into his gripping world of complex conflict, class struggle and revolution.
 Toward the end of the 18th century, change approaches from all angles. England's ruthless government will stop at nothing to create an indomitable commercial empire. In France, Bonaparte continues his climb to power, prompting much of Europe to take note and take stock of its defences. In Kingsbridge, the advent of a powerful new technology is threatening its cloth mills, reshaping its lucrative textile industry, and destroying the families that rely on it to make ends meet. Industry, military, and tyranny are on the verge of transforming an entire generation.
With all of this on the horizon, a small band of Kingsbridge residents, including traditional spinner Sal Clitheroe and his resourceful son, Kit, and David Shoveller, a weaver, take up arms against an almost inevitable future of oppression and deprivation.
To say that Armour of Light is riveting and impeccably researched – another brilliant feat of storytelling from a master – risks saying what by this point is already well-known. Follett delivers every time!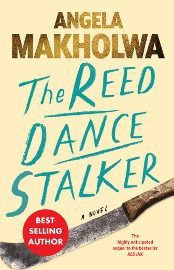 The Reed Dance Stalker by Angela Makholwa
One of the most prominent authors in local fiction, Makholwa has forged quite the reputation for two things in particular: sexy misadventure fiction and gripping psychological thrillers… and this one falls squarely into the latter category.
 Lucy Khambule, PR genius and intrepid journalist, is enjoying a major career highpoint. Her company has been enlisted to help organise the 2010 FIFA World Cup. The book she wrote on infamous serial killer Napoleon Dingiswayo – who she investigated during his reign of terror – has become a renowned bestseller. She is fielding requests for talks and interviews from left and right. Things are good, and they're looking to stay that way.
 Then she gets the news that upends everything: Dingiswayo has apparently escaped C-Max. Her terror does not last long, however, as Correctional Services and a detective, Morapedi, confirm that Dingiswayo's burned remains have been found in a prison pipe along with a suicide note. He's dead. No way he's on the loose.
But if that's true, who's the person stalking her online? And who is responsible for the gruesome and disturbingly familiar killings in eSwatini? As Lucy scrambles to hang onto the World Cup, she's left to wonder: can she trust anyone? And how can she stay safe now that she's in such demand?
If you like your thrillers local, and especially if you remember the heady days of the 2010 FIFA World Cup, The Reed Dance Stalker is just the ticket.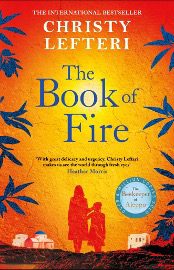 Book of Fire by Christy Lefteri
Lefteri, author of The Beekeeper of Aleppo, is known for expertly crafting lyrical and empathetic stories.  
Irini's idyllic Greek village lies deep in an ancient forest. Life there is slow and calm. Irini spends her days teaching music to children while her painter husband, Tasso, draws inspiration from the beautiful woodland. Along with their daughter, Chara, they start the day that changes everything the same way they start every day – with no idea of what approaches them. Before they know it, an unstoppable wildfire has destroyed their home, ruined the forests, and robbed an entire community of their way of life. 
Once the flames have died down, while wandering broken-hearted through the ashes that remain, Irini comes upon the body of a man: a land speculator who, in a bid to clear himself a plot, started the fire that brought this devastation about. It is not clear to her how he died, but it is clear that this is solely his fault. Driven by loss and rage, Irini does something that will weigh upon her forever. Tasso, meanwhile, struggles to accept the severe burns that now prevent him painting and mourns the loss of his father, who has not been seen since the fire. Only Chara, whose name means joy, inspires him to hope again.
The Book of Fire tells the gorgeous, sweeping tale of all that can be taken in an instant and how much it takes to recover from such a loss. Descriptive and hauntingly poetic, it's a book permeated by grief and depression, but elevated unfailingly by the life that Lefteri breathes into her characters and by the intimacy fostered by each and every captivating page.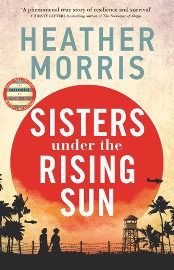 Sisters Under the Rising Sun by Heather Morris
With The Tattooist of Auschwitz, and the book that followed it – Cilka's Journey –, Heather Morris established herself as one of the most popular writers of historical fiction out there. Sisters Under the Rising Sun concerns an aspect of WWII with which fewer of us are likely to be familiar but it packs a punch just as powerful as her previous novels and delivers a tale every bit as affecting.
In 1942, while war raged throughout Europe, the Japanese army captured Singapore, then a British stronghold, capturing thousands of troops and dealing a considerable blow to The Allies. This event, and the advance of the Japanese army through the Pacific, forms the dramatic backdrop of Morris's newest foray into the heart of conflict.
As the Japanese army continues its unstoppable advance toward the city, Norah Chambers, an English musician, puts her eight-year-old daughter on a ship leaving Singapore – knowing that they may never see each other again. It's the only possible way to keep her safe. Norah, however, must stay behind to care for those unable to care for themselves. Not long afterwards, Singapore falls to the Japanese and Norah, like her daughter before her, finds herself crammed onto a merchant ship, praying that she'll make it out alive.
On this ship is also Sister Nessa James, a Welsh-Australian nurse who joined up to treat and care for allied troops. Off the coast of Indonesia, only a little way into their terrifying journey, the ship is bombarded and sunk.
Surviving the wreck, and then somehow surviving an almost unsurvivable day lost at sea, Norah and Nesta finally, improbably, manage to find their way to the shores of a distant island… where they are immediately captured by the Japanese army and thrown into one of their infamously brutal POW camps. Here, nothing awaits them but disease, starvation, and unchecked cruelty. But they do have each other, and they do have their own unique talents and, in forging a beleaguered sisterhood, both women tap into more courage and perseverance than they ever knew they had.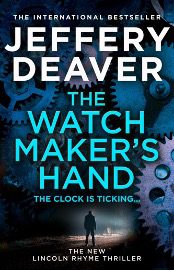 The Watchmaker's Hand by Jeffrey Deaver
Have you ever noticed just how many cranes you walk past, or even under, when you live in a big city? Imagine how many that would be if you lived in New York. And now imagine what it would feel like if they could fall down and crush everything in their path without warning. This is the strange and terrifying MO of Deaver's most villainous invention – and forensic criminalist Lincoln Rhyme's most dangerous adversary.
The Lincoln Rhyme novels (The Bone Collector, The Kill Room etc) are famed for the tightness and ingenuity of their plotting and, of course, for their memorable, often tormented, protagonist. This is the sixteenth of Deaver's books to focus on Rhyme, but they can be read in any order. In fact, Deaver's books are so immediately suspenseful and tightly wound that they often work best when you just jump into them.
When the first construction crane collapses, killing several people and leaving a fearsome trail of destruction, Lincoln Rhyme and his protégé turned partner-wife, Amelia Sachs, are put on the case. A sketchy political group claims responsibility for the heinous act and threatens to repeat it soon, unless their needs are met. The city is given twenty-four hours to respond. Rhyme and Sachs are no strangers to a short and deadly deadline, but with New York plunged into a palpable panic, and with no way to tell which crane will come down next, the stakes are almost impossibly high.
Through it all, an assassin known as The Watchmaker watches from a hidden place. Rhyme knows this Watchmaker. They've matched wits before. But Rhyme does not know exactly what he's planning this time. Or what he's waiting for.
Deaver's plotting here is superb, and Rhyme's mental battle with the The Watchmaker is one of the best and most thrilling contests you'll read this year.
Escape into the pleasures of reading!!!