Our debut of the month this month lets you know from the very beginning, via its striking and irresistible jacket, that we are in for something gloriously gothic. Originally published in France back in 2019, where it garnered much attention and a couple of prestigious prizes, The Mad Women's Ball became an instant sensation. This is a novel that explores a particularly troubling phase in the history of patriarchal mental health, reveals a macabre episode in the history of Paris and looses a compelling cry on behalf of ill-treated women then, now and always.  It's potent stuff: dark, hypnotic, vigorous. Read on.
The Mad Women's Ball
Translated from the French by Frank Wynne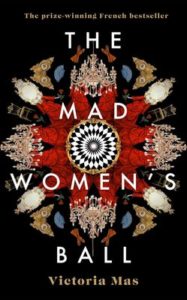 We all have some notion (typically misinformed, of course) of what a nineteenth century mental asylum must have been like. So too do we have an idea of Paris in the late 1800s. But, to most of us, the awful, true goings-on at Salpetriere hospital will be a stunning revelation.
Salpetriere Asylum is full of women who have been deemed insane in one way or another. Hysterical, the doctors call them. But the truth is, often enough, these are women who are simply inconvenient, unwanted, a nuisance to be off-loaded and forgotten about. Disobedient wives, rebellious daughters, independent thinkers. The charismatic Doctor Charcot has become a celebrity among the Parisian elite, dazzling the bored and the wealthy with his displays of hypnotism – a new and enthralling science. Once a year, La Salpetriere holds a grand ball… une affaire spectaculaire that attracts the uppermost Parisian socialites. It's one of the social season's most noteworthy events. But for the women confined to the asylum, it presents a rare opportunity.
Senior nurse Genevieve, lost and rudderless following the death of her sister, is enchanted by Charcot and his new magical work in hypnotism. She looks to him for something to trust, for some sense of meaning. Until, that is, a young woman called Eugenie arrives at the hospital. Unlike many of the patients, Eugenie is from a well-to-do family, and it is her possession of a volatile secret that has landed her there. She needs help. And only Genevieve may be able to provide it. Amid the mad swirlings and revelry of The Mad Women's Ball, the fate of these two women – among a host of women whose fates seem fatally sealed already – will dramatically intertwine.
Expertly conjuring the many forms of corruption hopelessly faced by so many women throughout history, The Mad Women's Ball is a brilliant, kaleidoscopic feat of storytelling: a macabre tale that is both unthinkable and all too real. Don't miss it!
Happy Reading!