It's time for another brand new debut!
This month we've chosen a novel dripping in atmosphere and overflowing with historical detail – an intriguing, spellbinding intergenerational tale of family secrets, sacrifice, love and war that timeslips between WWII London, Ireland in the 50s and the present day. It's beautifully written, it boasts a gorgeous setting and features a memorable cast of characters. If you enjoy the lush writing of Kate Morton and Lucinda Riley, The Midnight House is one you'll want to get hold of as soon as you can manage.
… because what's more tantalising than the idea of randomly discovering the key to an age old mystery?
The Midnight House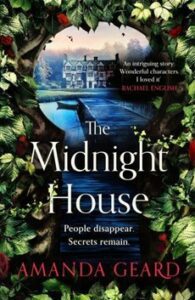 In 1940, in South West Ireland, Lady Charlotte Rathmore disappears. As she was last seen near Blackwater Hall's lake, it is assumed that the beautiful young woman has tragically drowned. Though her body is never recovered, she is pronounced dead and the mystery goes unsolved.
As the Blitz threatens to engulf London in the early days of WWII, Nancy Rathmore is struggling to come to terms with Charlotte's death when she receives a letter that simultaneously turns her life inside out and forces her into a position of strict secrecy.
In 2019, journalist Ellie Fitzgerald is compelled to abandon her career in disgrace and to flee Dublin for somewhere quieter to mend her broken heart and shattered hopes. She winds up in rural Kerry, Ireland, where she will wait for things to blow over. Leafing through some old books one day, Ellie discovers an aged letter that thrusts her into quite a different situation. The hidden letter exposes a long-buried secret and pulls the dishonoured journalist into the mystery of Charlotte Rathmore's disappearance… But that's not all that the letter has in store for her.
Flitting brilliantly between timelines and locations, richly drawn and impeccable characterised, The Midnight House is instantly gripping. A classic mystery in the best possible sense, it's a book that invites you to revel in multiple colourful histories.
Happy Reading!