Kate Mosse has been a celebrated name in literature for some time now, at least 25 years in fact, and her newest releases are inevitably looked upon with some excitement. Her earliest works were published back in the early nineties. Her first two books were non-fiction, though she has since become far better known for her novels – which regularly incorporate history, adventure and supernatural themes. Mosse also writes for numerous newspapers as well as penning plays and overseeing theatrical adaptations of her other work.
In addition, Mosse is also the founder director of The Women's Prize for Fiction (the most recent winner of which was Maggie O'Farrell's exceptional Hamnet). In 2013, she was awarded the OBE for services to literature and women.
The City of Tears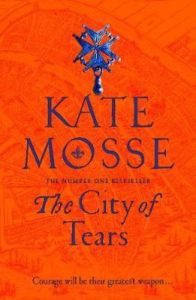 The City of Tears continues the historical epic that began with her previous novel The Burning Chambers – a saga of revenge, persecution, feuding and scheming. The City of Tears opens in 1572. After years of religious war, a marriage has been devised that might finally bring peace to France, an era of recovery and safety encouraged by the alliance of Catholics and Huguenots. However, for some, the long years of deadly turmoil have been very profitable… so profitable that some would sooner see the wars continue. Chief amongst those opposed to the cause of peace is Cardinal Valentin, formerly Vidal du Plessis. The chaos surrounding the wars allowed him to amass a wealth of religious relics, and with them a wealth of influence. Now he has the most powerful artifact of them all in his sights… and the first step to securing it is to prevent the impending royal marriage.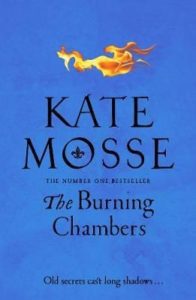 Minou Joubert and her family have been invited to attend the ceremony. They are not aware, however, that Vidal will
also be present or that age-old enmities are just as fierce as ever they were. Before the union can be solidified, Joubert's family will be brutally scattered across the country, and thousands will lie dead in the streets of Paris.
The City of Tears showcases Mosse's implacable grasp of history as well as her rich imagination and talent for intersecting skeins of action. Highly recommended for fans of the intricate world-building chronicles of Ken Follett and Diane Gabaldon, Mosse's newest novel is a gripping plunge into corrupt ambition, the evils of organised religion and fatal rivalry.
A Selection of Previous Titles
The Languedoc Trilogy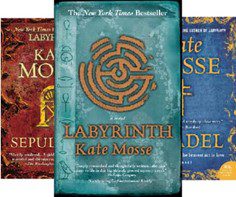 Arguably Mosse's best known novels, the Languedoc trilogy (Labyrinth, Sepulchre and Citadel) is a sequence of thrilling timeslip adventures that combines contemporary France with three other periods in the republic's history; first with the civil wars of the 13th century, then the 19th century and France's greatest age of artistic growth and intercontinental conflict, and finally with the dark days of Nazi occupation.
Beginning with an archeological dig in modern day Southern France and the uncovering of an ancient book of indecipherable diagrams and symbols, continuing on to a cursed Tarot deck thought to be involved in the summoning of demons and finally to an all-female resistance group wrestling France from the clutches of Nazism, the Languedoc Trilogy presents many flavours of thriller all at once. Combining a flurry of themes both fantastical and inherently real, from destiny and sepulchral damnation to history-redefining acts of courage, Labyrinth, Sepulchre and Citadel feature the kind of excitement that only Mosse can conjure. Vividly imaginative, exquisitely detailed and invariably lead by a strong female cast of protagonists, any fan of genre-hopping historical fiction could scarcely hope for more.
The Taxidermist's Daughter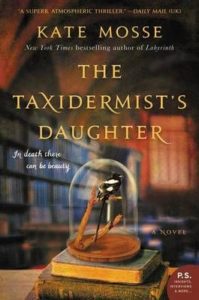 This is Mosse at her most gothic and relentlessly chilling… positively corvine, in fact. A horrible mystery, a devastating accident, a befogged memory and a suspicious death, The Taxidermist's Daughter is a veritable witch's brew of ingenious plot and tangible atmosphere.
One night every year in a Sussex churchyard, villagers gather for a very particular portent. It is thought that here, at this particular time and place, the ghosts of those who will die in the coming year appear to those who come to see.
Alone in the prognosticating throng is Connie Gifford. Her father's masterfully stuffed animals once decorated the parlours of every wealthy family in the county, but now they have fallen out of fashion and Gifford has succumbed to bitterness and bile, his once lauded museum of taxidermy now no more than a crumbling old house.
Distracted by the ghostly spectacle about to commence, nobody notices the sinister act taking place beneath their noses. A woman dies before the spectral harbingers are even glimpses, her death muffled by the church's clanging bells. It does not take long for suspicion to fall on Connie… after all, she has never been quite right, and who knows exactly what hides within her disgraced father's collection of decaying specimens and hateful memories?
Razor-sharp, drum-tight and gloriously ghostly, The Taxidermist's Daughter is a dark and polished gem.
For more on Kate Mosse, The City of Tears and the place that birthed her best known works, check out this interview.
Happy Reading!
Daniel Foyster
02/2021