Get 15% Off When You Buy Any Lee Child Title for Father's Day
Promotion ends on 19th June 2022
If your dads are anything like ours, they are strong, thoughtful and surprising… and they love a good bit of action. And as we all know, action is what you get when you plunge into a Jack Reacher thriller – a lot of action. So this Father's Day, forget the oh-so-popular aftershave/shower gel/beard oil combinations, let somebody else do the biltong thing, and head to Bargain Books to get some Lee Child books. When you do, you'll receive fifteen percent off your purchase… because we think the gift of a nerve-jangling, street-brawling, crime-avenging thriller is a gift worth giving. And, just to reiterate, that's any Lee Child title.
A Very Brief Biography of Jack Reacher – Everyone's Favourite Odd Job Hero
Jack Reacher was born on a military base in Berlin. He was not given a middle name. In fact, almost immediately, everyone simply called him Reacher. His mother and her family were French. His father was a US Marine Captain. This meant that for most of his childhood, Reacher was dragged across the world to wherever his father was stationed. He gained an early education in survival and was eventually admitted to the famed West Point military academy were he rose through the ranks to finally achieve the rank of major. His years of military service gained him numerous accolades, including a Purple Heart and two Legions of Merit. His later military years saw him heading up a military police unit that was formed to investigate especially difficult and dangerous cases. But his glory-filled time with the army came to an end when he insulted the wrong lieutenant colonel, during a particularly harrowing case in Mississippi, and was spitefully discharged.
Post-military, Reacher has become a drifter. Without any real direction or way to channel his exceptional skills, he's taken to wandering around, tackling injustice wherever he finds it and often helping those in danger. You could call him an alienated protector or an avenging angel. You could also call him extremely tall, extremely broad, outrageously tough and just as deadly – because he is. He has a penchant for delivering a devastating headbutt and is not above a kick to the groin should the occasion call for it. He likes coffee, and sex, but is not keen on forming emotional attachments. He is very fond of blues music. He prefers it when things are spelled correctly.
Skills:
Exceptional hand-to-hand combat ability.
Outstanding proficiency with all firearms.
Gifted with numbers.
Unusual deductive and observational skills.
Flawless memory and ability to retain information.
Some Jack Reacher Titles
There are plenty to choose from, here are some good ones:
Better Off Dead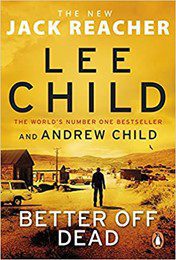 Jack Reacher returns in a blistering new action-packed, kickass vengeance adventure – and this time the bad guys would rather die than get caught. FBI Agent Michaela Fenton thinks her twin brother may have fallen in with the wrong people. She needs to find him. Reacher thinks he might know who some of these people are, and where to find them. It begins with an abandoned, crashed jeep on an empty desert road, and it continues into a decrepit bordertown. Helmed by a charismatic leader, the people of this town know that Reacher is coming. They know what he wants to know. They know what he'll do to uncover what they're hiding. And they have other ideas. Cool, thoroughly entertaining and properly moreish.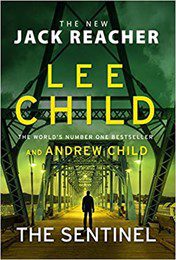 The Sentinel
Jack Reacher's aimless wandering eventually takes him to Tennessee, to a town somewhat erroneously named Pleasantville. While traipsing the streets of this town Reacher, as he does, spots a dangerous confrontation. A man is about to wander into a four‐against‐one ambush and Reacher takes it upon himself to resolve this tension as only he can. However, this ambush, as Reacher is about to discover, is the culmination of something far more serious.
The man he saved is no more than a run‐of‐the‐mill IT manager, recently fired following a cyberattack on the town's confidential records. All the man wants is to keep his head down, to not seem guilty and to clear his name. But it soon turns out that his attackers were involved in something that stretches all the way to a deadly cover up, a massive conspiracy and at least one murder. The only thing that's clear from the outset is this: Reacher is a good person to have in your corner.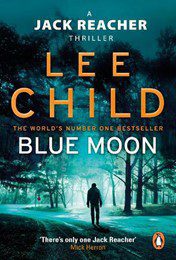 Blue Moon
In Blue Moon, what begins as a random act of kindness soon has Reacher caught in a brutal feud between two rival gangs, squaring off against a fearsome line up of seasoned heavies and cut-throats. Playing the part of lone-wolf-enforcer/good Samaritan, Jack may be the only one who can save this city and its vulnerable residents from the destruction already engulfing it.
On a Greyhound bus bound for an essentially non-descript town in America, Reacher spots an old man looking intensely distressed. He has with him a bulging envelope full of cash and Jack immediately realises that the man is in danger. Sticking close to the elderly gent, Reacher manages to thwart an attempted mugging, only to become aware that this is only the tip of the iceberg. It transpires that the man, Aaron Shevick, was forced to borrow a large sum of money from the Ukrainian loan sharks already tightening a strangle hold on his home town in order to pay his daughter's medical bills. Now the gangsters want their money back, with a ton of interest. Moved by Shevick's plight, Reacher decides to infiltrate the shady gang and break their hold on the downtrodden. But this is not the only gang vying for quick and callous profit and soon Reacher is in the thick of an all-out gang war. A war that he will not be able to fight on his own, a war already spilling so much blood and claiming untold lives.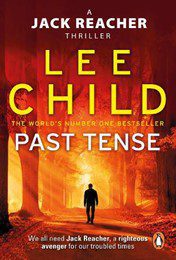 Past Tense
It's autumn. Reacher has planned to hitch-hike all the way across America beginning in Maine… but he never makes it out of the forests of New England.
A short way into his trip, Reacher spots a sign that leads somewhere new – the town in which his father was born. He has never seen this place and, figuring that it will only take him one day out of his way, he opts for the detour. At that same moment, two young Canadians break down on their way to sell a treasure in New York City, becoming stranded in the same strange place – where the motel owners are suspicious in the extreme. When Reacher discovers that nobody with his surname has ever lived in the town he becomes unsure of which parts, if any, of his father's story are true… and somehow he becomes entangled with the Canadians as their interlinked stories build to an incredible climax.
Happy Father's Day and Happy Reading!