Kristin Hannah has been steadily publishing novels since the early nineties. The years in which she does not release a new book are far rarer than the ones in which she does. Hannah once worked as a lawyer, though she has assured those who have asked that she does not miss it and that writing is really the only career for her.
Though her novels ultimately incorporate several genres, they often include historical and romantic elements, regularly exploring family relationships and emotional bonds tested by circumstance. Courage is a typical theme of her work, as are strong women.
Here are some Fun Facts about Hannah.
The Four Winds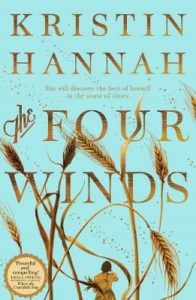 Deep in the heart of Texas, Elsa Martinelli and her family have a good life. Their farm earns them a living and their lives are close enough to the American dream they had once envisioned. However, The Great Depression is ravaging the state. Millions are out of work, crops throughout the great plains are failing and, unless the water supply miraculously comes back to life, every farm in the region faces destructive dust clouds. The days are growing dark.
Many of Elsa's neighbours have already opted to flee, and that option is becoming harder and harder to ignore. But when Elsa wakes one morning to find that her husband has abandoned the farm, the decision can no longer be deferred. Does Elsa choose to fight tooth and nail for the land she loves knowing that so many have already failed, or does she venture west to California with those she loves, into an unknown new life and an unpredictable set of challenges?
The Four Winds is a distinctly American tale, but it is not the dictums and boiler-plate aspirations of that country that take centre stage here so much as the indomitable bravery and strength of a woman who prioritises being a mother and a daughter as she clings to a life she has already fought so hard for.
Powerfully emotional and distinctly relatable, The Four Winds is as true to the futures of today's families as it is to the history of those who struggled and sacrificed before us.
Win a signed copy and tote bag here
A Selection of Previous Titles
Firefly Lane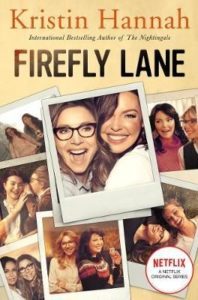 A thirty year tale of friendship, family and choices, Firefly Lane is one of Hannah's most popular novels… especially with those who understand one of life's most profound truths: your best friend is the only one who will ever truly get you and stand by you in spite of everything.
It begins in 1974. Flower power is drawing to a close and Kate has made peace with the fact that she's never going to be popular and that school is going to be nothing but a dull grind until the end. And then, the coolest girl in school, Tully, moves in over the road.
Despite their huge differences (Tully is super cool and Kate is… not) they become firm friends, vowing to keep each other afloat and weather whatever life throws at them together. For three decades, they remain faithful to this promise until a betrayal, compounded by a tragedy, forces them to wonder whether there are some storms through which a lifelong friendship cannot pass.
By turns upbeat and tearjerking, Firefly Lane is true to the real complexities of powerful friendship and the daily trials of life.
And it's now a Netflix series! Make sure you get the book first so that you'll be the best informed member of the debate.
The Nightingale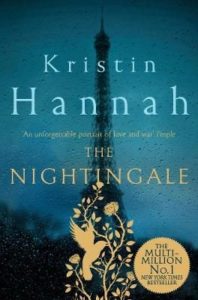 Two sisters, Vianne and Isabelle, live different lives. Isabelle explores her boldness in burgeoning Paris while Vianne is happier with her quiet existence in the French countryside. Though they are different in temperament, they remain as close as they have always been.
When WW2 strikes and Vianne's husband is sent off to The Front she is left alone with her daughter in their village home. Vianne does not anticipate a Nazi invasion of France, but soon the countryside thunders with enemy tanks, trucks and troops. Then the invasion comes to her own house. When a German captain takes over her home, Vianne is forced to co-exist with those who would destroy her country.
Meanwhile, Isabelle is lured by young love and recklessness into the Parisian resistance, where she will risk her life to secure the freedom of others. With her sister struggling to survive in an occupied house, Isabelle takes her fight to the streets… but when and how will they ever be reunited?
With contrast of experience and unity of heart at its core The Nightingale is a heartbreaking and intimate novel that uses a brutal backdrop to showcase the resilience and spirit of two remarkable women.
The Great Alone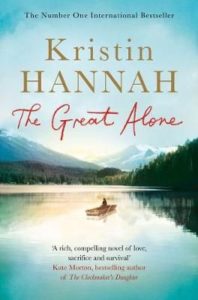 Almost like a cross between The Nightingale and new novel The Four Winds, The Great Alone blends war and wilderness, strength and fragility to deliver a tale of trauma and reinvention.
The Ernt Allbright who returns from the POW camps of the Vietnam war is not the same Ernt Allbright that left. His traumas have rendered him broken, unstable and unable to readjust to an ordinary life. When his attempts to find stable work fail once again, he makes a drastic decision: he uproots his family, seeking a new life off the grid in the Alaskan wilderness.
In spite of the explosive strains the move puts on her parents' relationship, the trials of the harsh wintry landscape and the fact that her early teen years have just been made that much more difficult, Leni, Ernt's daughter, somehow manages to hope that this new frontier might offer her a place to finally belong. But with her father's already fragile mental state pushed to the brink by Alaska's dark days and relentless peril, the future of the Allbright family is as precarious as their hope.
Love and loss, control and wildness, survival and decline, The Great Alone vividly explores a host of stark dichotomies as it pits people against nature while exploring their inherent commonalities.
Read all four of the titles featured above? Check out this full list and find yourself a Hannah title you've not yet gotten to.
Happy Reading
Daniel Foyster
02/2021