Land. It's bounties, borders and beauties have long defined the cultures and civilizations that occupy our world. Sadly it has also been at the heart of too many disputes and conflicts to count. And though we may be tempted to believe that these feuds belong to the past, the truth is that where land begins and ends, who gets to use it and to whom it belongs are issues around which much modern conflict revolves.
South African High Court Advocate, adjunct professor and political activist Tembeka Ngcukaitobi is intimately familiar with how our land shapes our present and future. As a member of the South African Land Reform Commision and as an acting judge in the Land Claims Court of South Africa, he has been directly involved in some truly defining cases.
With his new book, which recently cracked the top ten, Ngcukaitobi takes a close look at one of SA's most complex dilemmas.
Land Matters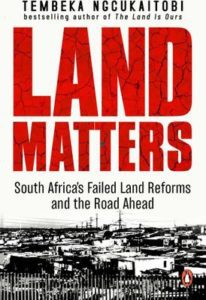 This deep dive into the history of land ownership and manipulation demonstrates first how traditional African communal land laws allowed the earlier occupants of South Africa to be denied what was truly theirs by colonial powers and brings that to bear upon the present day by examining the ANC's twentieth century policies and negotiations on land.
Ultimately Land Matters provides illuminating context as it analyses exactly why and how various land reforms have failed South Africa. It asks whether there is a simple solution, whether any kind of compensation can ever be sufficient and what can be done to get the whole thing back on track.
By taking a close look at the different owning powers and ownership approaches in SA and their accompanying limitations, as well as the big players in banking and government that wield such influence over these matters, the book unpacks a complex problem with many moving parts. It stops off along the way to make suggestions too, and to point out that these are issues of which we would all do well to be aware.
The Land is Ours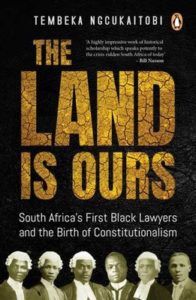 The Land is Ours tells the story of South Africa's first black lawyers and the emergence of the constitutional system against a cruel and oppressive backdrop. In the late nineteenth century, and on into the early twentieth, colonial powers expanded aggressively throughout southern Africa, seizing the land of indigenous people and forcing many into punishing labour.
This book recounts the gruelling but ultimately triumphant struggle of black lawyers and ANC members to create and uphold a system of law that guaranteed rights and freedoms to those who had been denied them under foreign rule. It is the story of the Bill of Rights – a document and an ideal that continues to both inspire and provoke debate in this country.
In particular The Land is Ours "follows the lives, ideas and careers of Henry Sylvester Williams, Alfred Mangena, Richard Msimang, Pixley ka Isaka Seme, Ngcubu Poswayo and George Montsioa, most of whom were also members of the ANC. It analyses the legal cases they took on, explores how they reconciled the law with the political upheavals of the day, and considers how they sustained their fidelity to the law when legal victories were undermined by politics."
It is a quintessential black history of South Africa told from a black perspective.
Happy Reading