It's an exciting month for fiction. We've got highly anticipated new work from some established favourites, a whole bunch of local flavour, some visceral thrills and even some voyeuristic delights. Whichever of these most takes your fancy (no judgments, of course), it's certainly worth having a look at this hand-picked selection of brand new fiction.
Take a look:
To Paradise by Hanya Yanagihara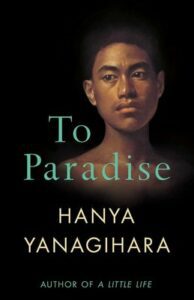 Yanagihara made quite the splash with her previous novel, A Little Life – a complex and painful character study that left no reader undevastated. With To Paradise, she returns to once again showcase the relevance and richness of her character-based approach to the world's most enthralling and disastrous problems.
To Paradise takes place in three distinct years: 1893, 1993 and 2093. It explores, respectively, an alternative New York and its seemingly more liberal approach to love, a Manhattan scarred by the Aids epidemic, and a future wherein plagues blight the Earth and totalitarian autocrats ruthlessly rule a broken world.
Within each of these eras, Yanagihara focuses on one person's struggle to protect those they love and excavates the emotional toll of gradually realising that an ideal world is simply impossible.
To Paradise is stunningly layered, achingly emotional and superbly crafted – Book Clubs, and those with literary tastes, will not want to miss it.
Chasing Marian by Amy Heydenrych, Qarnita Loxton, Pamela Power and Gail Schimmel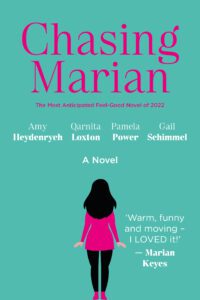 On the absolute flipside, here we have one of the year's most anticipated local feelgoods. If you're a reader of South African romance fiction, at least a couple of this collaborative novel's four authors should sound familiar. And if you are a Marian Keyes fan, there's no way you can afford to miss this one!
The Publisher Says: 
"Four strangers, two cities, one chance online meeting. Jess is a yummy mummy of two whose life is slowly unravelling and who has recently separated from her husband. Ginger is a happily widowed granny with a salty tongue and a wicked sense of humour. The gorgeous and sensitive Matt is an almost-qualified psychologist, who still lives with his parents. And Queenie, a librarian from Cape Town, has an absent boyfriend and a secret writing habit. What could these four strangers possibly have in common? They are all die-hard Marian Keyes fans. And when they hear that Marian is due to visit South Africa to attend a literary festival, they are all desperate to meet her. Together they come up with a mad-cap plan. Will they succeed – or will life intervene?"
Suspects by Lesley Pearse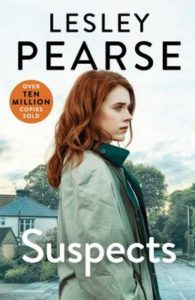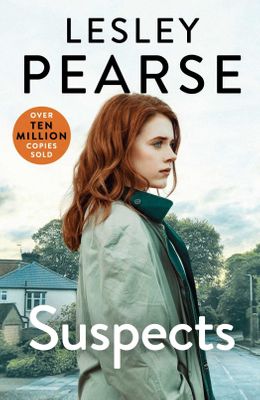 Willow Close is a street with many secrets. A street populated by those with something to hide. A street full of suspects.
Nina and Conrad Best move into their new home on Willow Close certain that their life there will be a good one, quiet and fulfilling. But on the very day that they move in, the community is horrified by the discovery of a murdered child. As the police question the residents of Willow Close, certain that somebody must have seen the murderer – or worse, must know the murderer – they quickly discover that the sleepy, affluent neighbourhood is hiding more than its share of appalling secrets. It seems that Nina and Conrad have moved straight into a nightmare.
Combining a classic whodunnit with titillating domestic drama, Suspects will keep you turning the pages even as you stop to wonder just what's going on behind the curtains on your own street. Memorable characters, a dollop of dark suburbia and an intriguing mystery – this book is a treat for the curious and the voyeuristic alike.
Dark Horse by Gregg Hurwitz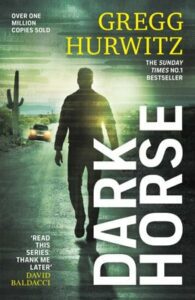 Evan Smoak returns in the most electrifying Orphan X thriller yet.
As an underground assassin, Smoak tends to interact with two kinds of people: those who need his help, and those who deserve his retribution.
This time, it's a helpless father in need of his services. The man's daughter, Anjelina, has been abducted and trafficked over the border into Mexico by a infamously callous cartel. The man will provide Smoak with everything that he needs to get her back… except the truth about himself and his past – which may even rival Smoak's own shady origins.
With all the breakneck action, knife-edge plotting and dubious characters that make the Orphan X novels totally irresistible to thriller fans, Dark Horse is the series at its most explosive.
The Leviathan by Rosie Andrews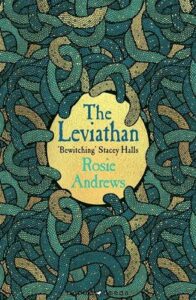 An accomplished debut that glitters with suspicion and murder, The Leviathan takes place in an England torn and unsettled by religious and political turmoil. A haunting mystery just waiting to wrap you in its darkly palpable atmosphere, The Leviathan is a historical must read.
Thomas Threadwater, a soldier in the Civil War and a forward thinking man of the world, is called home by his distressed sister. She says that a new servant of theirs has done something to their father. When Thomas makes it home, he finds his father utterly incapacitated and seemingly near to death. The accused servant has been sent to prison to face charges of witchcraft.
Thomas initially supposes that the mystery will work itself out rationally, but as he digs deeper he begins to suspect that something dark, ancient and malicious may be behind his father's malady… and somehow it is all connected to a fateful shipwreck.
Stirring the Pot by Quraisha Dawood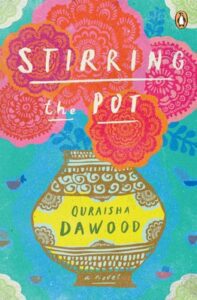 Another colourful local title worth looking out for, Stirring the Pot allows us a look at the private lives of Durban's Muslim women: their disappointments and expectations, their secrets and vitality… and their food.
The friendships among the women at Summer Terrace flats are anything but straightforward. Judgments, rivalries, lies and envies abound – and no feather is left unruffled for long.
Dawood follows the vibrant women of Summer Terrace as they negotiate Ramadan, an upcoming wedding, a theft, a death and a never-ending recipe feud.
Stirring the Pot is an intimate testament to culture and womanhood. It's a genuine pleasure. Oh, and every chapter ends with a recipe.
One Step Too Far by Lisa Gardner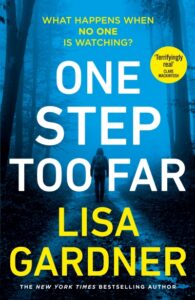 Do thrillers get more horrifically real than when they are written by Lisa Gardner?
Things happen in the woods. It is a mysterious, sometimes magical place, after all. But you do not expect to remain there forever.
When a young man goes missing during a stag weekend in the woods, people assume he will turn up eventually. But a year goes by with no sign of him. His friends have not given up on him, and still hunt for signs of him. He must have fallen, or encountered a dangerous animal, or lost his bearings, something simple. Accompanied by a missing persons expert, the friends trek deep into the wilderness. But they have no idea what awaits them… and they never expected not to return.
Terrifying, dripping with mystery and generous with the technical parts of missing person investigations, One Step Too Far is an unpredictable, adrenaline-pumping treat.
Serpent Crescent by Vivian de Klerk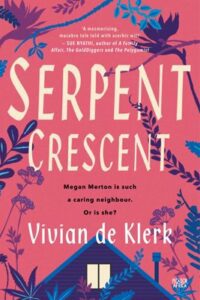 And we finish with another local gem.
Qonda, a rural town, suffers many of South Africa's residential problems. Water and power are never there when you want them, the property prices are terrible and the municipal dump clouds the whole place in disgusting smoke.
Retired English teacher, Megan Merton, has lived in Qonda forever. And she resists its tragic decline by taking it upon herself to punish the bad behaviour of her neighbours. Her punishments will be… creative, and she will deliver them personally. She'll also keep a record of them all.
But when her nextdoor neighbour, a lecturer in Classical Studies, suffers a stroke, Megan is presented with a new project. Since she has the keys to her neighbours house, and is charged with looking after it while its occupant recovers elsewhere, she is given an irresistible opportunity to snoop to her heart's content. She does not, however, expect to feel such a bond with this lonely academic.
Gleefully acerbic, terribly funny and deliciously unhinged, Serpent Crescent is some of the most fun you will ever spend with an unrepentant sociopath.
Happy Reading!