By now you all know that we're ceaselessly excited about debut novels, so we'll skip the preamble and plunge straight into our brilliant choice for this month: My Name is Yip by Paddy Crewe
Already being extensively praised for its vividity, eloquence and, most importantly, its unique and unforgettable narrator, My Name is Yip is set to become one of this year's most notable debuts. Set on the wild American Frontier, this is an irresistibly atmospheric and rolicking tale of outcasts, murder, gold, growing up and seeking vengeance – a book that combines much of the classic appeal of historical western fiction with genuine tenderness and wonderful invention.
My Name is Yip by Paddy Crewe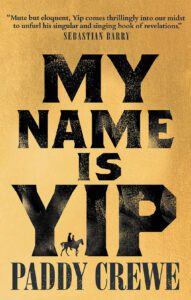 Yip Tolroy is born in 1815, in the small town of Heron's Creek, Georgia, under unfortunate circumstances: he emerges from his heavily bleeding mother with deathly pale skin and struggling to breath thanks to his own umbilical cord. As soon as he manages to suck in his first gulp of air, his father vanishes. It's a less than opportune start to life, and it does not improve with much speed. For the first fifteen years of his life, he has no friends, is largely shunned by his community and has never spoken a single word. But change, at last, is about to turn up.
When gold is discovered near his town by ambitious prospectors, sensing an opportunity unlikely to come around again, Yip does something unthinkable. The crime he commits leaves him with no choice but to flee his home, embracing a life on the road. But he does manage to make a friend, of a sort. Yip and his comrade, Dud Carter, barrel unexpectedly into a completely new world: a world in which violence, fear, lust and revenge reign unchallenged – an unknown and dizzying world of travelling shows, freed and escaped slaves and ruthless goldmen out to find their fortunes at whatever cost. Through it all, as Yip is forced to grow up and is shaped by the wonders and horrors of this wandering life, home calls him back. But is returning even possible now?
Yip Tolroy, our exceptional protagonist, has already drawn comparisons, often from other writers, to such memorable characters as David Copperfield, Holden Caulfield and Owen Meany – narrators whose extraordinary voices made a significant impact on literature itself. So, not meeting Yip Tolroy could only be a terrible shame.
Happy Reading!