Here are five of this month's most exciting new releases in local non-fiction. We begin with food – because that's most always a good way to start things – and then move on to the collected columns of a beloved media personality and a new work of essential SA history.
Do, please, take a look:
Hosting with The Lazy Makoti by Mogau Seshoene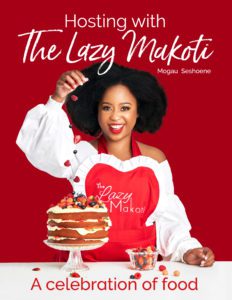 In case you haven't yet heard of her, Mogau Seshoene, AKA The Lazy Makoti, is an award-winning author and chef who left her earlier career in finance in order to teach South African women to cook in the traditional way. Hers is a simple and engaging approach to business and food that celebrates the vibrancy of African cuisine, champions entrepreneurship and offers manifold opportunities.
With Hosting with The Lazy Makoti she returns with a new collection of over one hundred recipes that will equip you to host any occasion with ease and wow whomever you please. Here you'll find meals that are tasty and stylish: one pot dishes for hearty gatherings, no-nonsense cakes and bakes for casual get togethers, plant-based fare, Mzansi classics, showstopping desserts and sophisticated mains to suit any and every palate.
Foodies of South Africa – Kitchen Shortcuts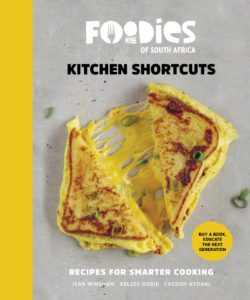 So obviously, that sandwich right there is enough to convince you of this book's appeal. But in case you want to know: a few years back, Foodies of South Africa became an unmissable hotspot for anyone wanting to try out new, uncomplicated recipes. Their viral videos, social media presence, hundreds of thousands of followers and celebrity members have made them one of SA's most enormous food brands. And it's not hard to see why. This is food as culture, food as personal story, food as fun, food as local pride and food as… well, food.
In the years that have followed the release of their first book, the Foodies of SA community has reached cooks of every skill level. Now, with Kitchen Shortcuts, they bring you the essential time-saving, cost-cutting tricks and tips that they have gathered along the way. There's plenty in here that will take the stress out of preparing awesome meals. We guarantee  it, and so do they.
Huiskos by Herman Lensing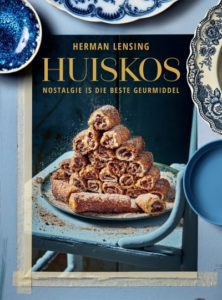 Memory, community and nostalgia have long been an essential part of Lensing's relationship with food, and each of his previous books have demonstrated this beautifully. This time, however, he is keen to share even more and, to that end, has incorporated recipes offered by friends and by people that he has made on his travels around the country. As well as the glorious, unpretentious 80+ recipes found within, Huiskos also includes a generous serving of relatable anecdotes that fully showcase his love of food and the people that share it.
From the Publisher:
Huiskos is Herman Lensing se sesde kookboek en volg op die uiters suksesvolle Dit Proe Soos Huis (Human & Rousseau), wat in 2019 verskyn het en in 2020 benoem is deur die SA Boekpryse vir beste niefiksieboek. Huiskos vertel – in sy eie woorde – die storie van Herman se 34 jaar op hierdie aarde. Anders as in sy ander boeke deel hy hierdie keer ook resepte wat hy by sy vriende leer ken het en by mense op vele reise deur Suid-Afrika.
Huiskos bevat meer as 80 resepte, van ontbyt tot hoofgeregte, van bykosse tot vleisgeregte, van koeke, koekies en beskuit tot nageregte (soos trifle, roomys en selfs basaarpoeding). Elke hoofstuk weerspieël Herman se liefde vir kos en vir mense, met staaltjies waarin jy jou kan verkneukel. Dis alles pretensielose resepte met bestanddele wat jy van Pretoria tot in Pofadder kan kry. Huiskos is nes jy Herman se kombuis ken: kos wat almal kan saamkook.
107 Kaalkoppe by Nataniël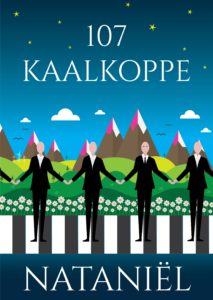 Through his many short stories, tv shows, albums, memoirs, cookbooks and columns, Nataniël has become one of the country's best-loved celebrities and artists. Introspective, often wise, usually funny and pretty much inimitable, his writing is equally capable of entertaining and advising.
107 Kaalkoppe collects the many (there are 107 of them, actually, as it happens) columns that he has written for Sarie between 2012 and 2021 … and now is an especially good time to avail yourself of the candour and charm that they provide.
From the Publisher:
Nataniël vier 20 jaar as Kaalkop-rubriekskrywer met hierdie nuwe versameling van sy gewilde SARIE-rubrieke: 107 Kaalkoppe geskryf vanaf 2012 tot 2021. Eerlik, persoonlik, nugter, inspirerend, melankolies, hartseer, opgewonde, driftig, simpatiek, verbaas, dwars, reguit en vasbeslote mik hy na elke moontlike emosie. Met die wêreld op sy kop was daar nog nooit 'n beter tyd vir 'n boek soos dié nie.
History of South Africa From 1902 to 2021 by Thula Simpson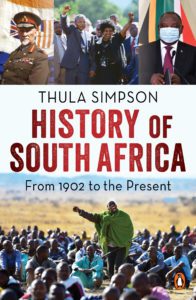 South Africa's history is one heck of a ride, I'm sure we can agree. An extraordinary amount has happened here. Over the past century and a bit, many aspects of the nation's spirit have clashed memorably, tragically, even triumphantly. There has been much pain, much achievement… okay, actually you know this already.
But there is much that Thula Simpson, senior lecturer in history and prolific author-researcher, has to tell us about our past and our present. Hence this hugely valuable book.
Running the tumultuous gamut from the aftermath of the Second Anglo-Boer War to the Covid-19 pandemic, Simpson draws on documents, testimony and research that have never before been published in order to bring us the multidimensional story of a country whose people have endured war and tragedy, change, resistance, atrocity and crisis, whose people have demanded and made change, and whose people have done remarkable things… This is an engrossing portrait of a nation whose character continues to evolve and manifest itself in incredible ways. It's not to be missed.
Happy Reading!