More from our favourite Gauls and treehouse architects, a brand new book from JK Rowling, an excellent addition to an important movement and a book about ghosts, ponies and photographs: Here are five of this month's most exciting books for kids.
Asterix and the Griffin by Jean-Yves Ferri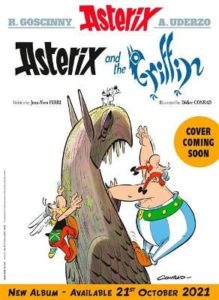 Here's one that has a whole bunch going for it. As we all know, the Asterix comics have that magical blend of humour and history that makes just about everyone of them unforgettable. As we also know, a Griffin is a perfectly spectacular creature. It's half lion, half eagle, and all awesome. It is feared as much as it is respected.
Asterix, Obelix and Dogmatix (who's a terrier, you'll want to know) are on a quest to find this fantastic and formidable beast. But why do they want to find it? What will they do once they have found it? And, perhaps most importantly, how are they going to manage to completely muck it up?
It's action packed, it's hilarious, it's as artistic as it is thoroughly silly. What more do you need?
When We Say Black Lives Matter by Maxine Beneba Clarke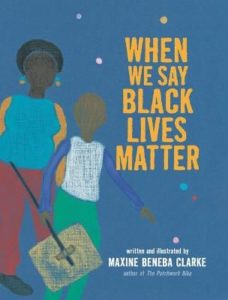 Something it's hard to argue with: kids so often have a better handle on these issues than we do. Which is why this beautiful, lyrical little book and its gorgeous illustrations are a must have for every household involved in stopping any form of hate in its tracks.
This book delves gently into the history of the Black Lives Matter movement, providing important context and exploring meaning, while celebrating what has been achieved and pointing out what still needs to be done. It pays to remember that reading can be an act of activism and, here, author/illustrator Maxine Beneba Clarke poignant teaches the importance of using your voice as a force for good.
Your children are brave and inspired and smart. This is a book that will match and foster their growing spirit.
The 143-Storey Treehouse by Andy Griffiths and Terry Denton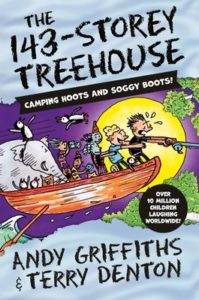 One, hundred, and, forty-three! Can you believe it? Can you even begin to imagine what that might look like? Everybody's favourite gravity-defying, expectation-confounding, mind-blowing treehouse is back at last with another thirteen absurd and marvelous levels. Is there no limit to the manic imagination of Andy and Terry? No. No is basically the answer.
This time around, we get the word-o-matic (which knows every word in the whole universe… 'nuff said), a cave with an actual real life dragon, a recycling centre (because a treehouse that big needs a way to deal properly with its rubbish), a graveyard (where it's always midnight), and a nice tranquil campsite (because Andy and Terry are definitely going to need a break from all this excitement). The only thing is: the little camping holiday that they have planned for themselves, probably won't end up being as chilled-out as our enterprising duo were hoping. But what ever is?
More hilarity and boundless creativity than you could ever shake 143 sticks at.
The Christmas Pig by J.K. Rowling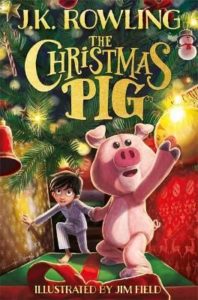 This one's also a pretty big deal: it's Rowling's first children's novel since… what was his name? The kid with the glasses and the unfortunate forehead?
… And it's Christmas-themed too. (Never hurts to get a head start).
Dur Pig (DP for short) and Jack (Jack for short) have been together forever. Jack has never loved a toy as much as he loves DP. So when DP goes missing, one Christmas Eve, it's completely heartbreaking. Thankfully, Christmas Eve is known to be a night of magic and wonder. On Christmas Eve, as every kid knows, things come to life. Jack is quick with a plan – and so is his replacement toy, Christmas Pig, and neither of them is low on bravery. Between them, they might just be able to save Jack's very best friend.
The whole family will fall in love with this gorgeous new tale of spirit and friendship. And, thanks to the singularly handsome illustrations of Jim Field and the all-round beauty of this heartwarming book, The Christmas Pig is a gift everyone will want to get. And you don't even need to wait until December.
Pony by R. J. Palacio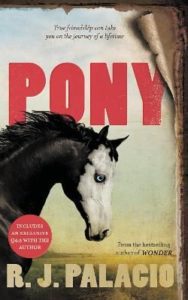 R.J. Palacio seriously captured readers' heart and minds with Wonder (which went on to become a major film and is still beloved by educators), and she now returns with a new wonder of a tale.
Silas Bird's best friend is named Mittenwool. Mittenwool is a ghost, but theirs is a close relationship. The only other person with whom Silas is close is his father – an experimental photographer. One night, three strangers appear at Silas's house and take his father away. They say they will bring him back but Silas is doubtful. When the Arabian pony that the men had with them returns to the house alone, Silas quickly realises that they will have to venture out into the wild forests if he ever wants to see his father again. The journey will be perilous, but along the way Silas, Mittenwool and the pony will unlock secrets and unravel mysteries they had never dreamed of encountering.
A tremendous, sophisticated adventure with a historical setting, Pony is passionate and full of fascinating research into the spiritualism and art of the past. It's a genre-bending delight.
Happy Reading!