Pokémon Day with Bargain Books
Join us for a whole host of events celebrating the inimitable world of Pokémon and its many evolutions!
If you are a person of, let's say, a certain age, you might just remember what it was like trying to explain Pokémon (and why you need all of them, like right now!) to your parents. Thankfully that's not something one has to do much anymore. Because Pokémon. Are. Everywhere! And that's just so cool.
The Trading Cards. The video games. The animated series. The apps. The movies. The characters. And the rest. The Pokémon franchise is absolutely iconic. Seriously, ask someone to name a Pokémon, any Pokémon. You might be surprised by how many can.
Anyway…
Today is Pokémon's birthday!
And we think that's worth celebrating. And we hope that you do too.
That's why we're hosting Pokémon events in more than a dozen of our locations between March 31st and April 4th! More on those in a moment, but first a little appetite whetting.
A Little Background
On February 27th, 1996, the very first iterations of Pokémon Red and Pokémon Green were released on the Nintendo Gameboy (you remember those, right… their display was in black and white and they were only slightly more compact than your average brick!). And thus was born a mythically enormous realm that grew and grew to exist somewhere in the consciousness of every person in the world! Okay, perhaps not quite every person, but it really is hard to overstate the popularity and influence of these imaginative made-up creature-friends. Bet you have a favourite too. It's worth mentioning, also, that the franchise originally set out to encourage connecting with each other and the world around us. In fact, the first games were apparently devised when designer Satoshi Tajiri wanted to find a way to connect Gameboys together. And this idea remains integral, so many generations and advancements down the line, to the Pokémon brand in all its forms.
And Now There's Scarlet and Violet!
That's right. We're not just celebrating a birthday here. We're also celebrating the launch of the Pokémon Scarlet and Violet Trading Card Game expansion – which introduces ten new Pokémon ex, a bunch of glorious new artwork and almost 200 cards. You can see some of the products included in the Scarlet and Violet expansion: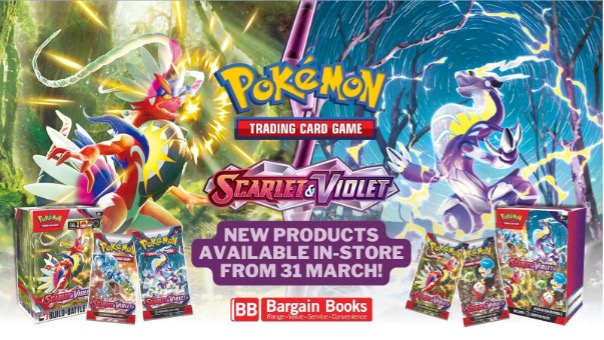 So, Here's What We're Getting Up To
As part of our awesome Pokémon celebrations, our events will include the following activities:
● A card tournament. Come and find out how your deck stacks up against your fellow trainers and their tactics!
● Card trading. Because we all have those cards we've been yearning to add to our collections.
● Pokémon quiz. Do you know your Egg Moves from your Held Items? Your Grass Types from your Bug Types? Your Arceus from your Rayquaza? Your… well, you get the idea.
● Pokémon drawing competition. It takes a skilled artist to interpret those legendary designs. All creatives welcome!
● Best dressed competition. Costume opportunity! Some of us have been waiting for just the right moment to dig out those Pikachu ears. (Just kidding, we wear ours all the time.)
● Pop a balloon. Prizes are just better when they come with a bang!
● Lucky draw. Nothing says Pokémon quite like a "random encounter."
● Find the Pokéball. It's probably not going to be in the long grass – because most of our stores are, you know, indoors – but you never know!
Also, be sure to share with us all your best Pokémon memories, stories and observations between 27 February and 3 March 2023. We just know you've got loads!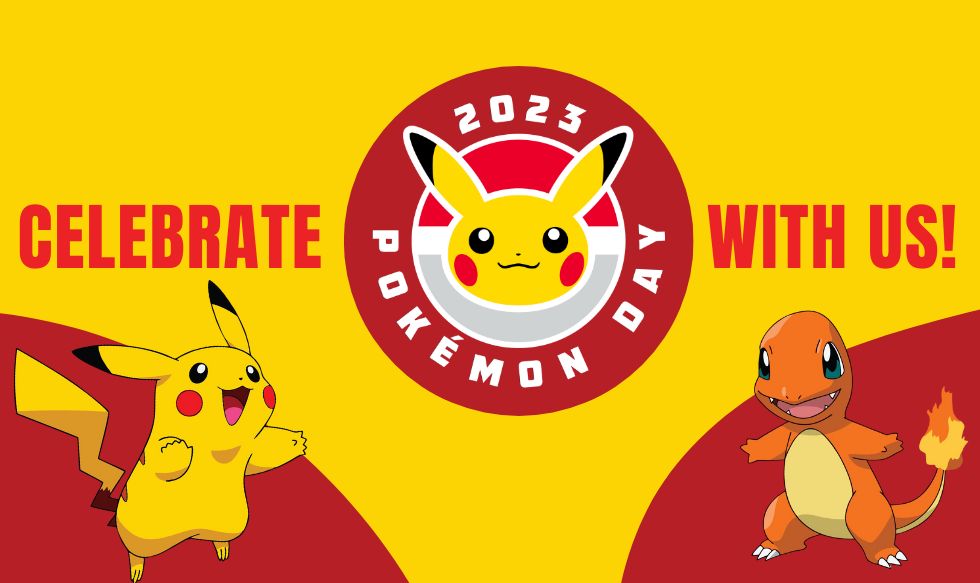 Please tag @bargainbookssa
And hashtag #PokémonDay #BBPokémon #PokémonTogether
Celebrations are made of memories, so don't hold back
Here's the Schedule:
And Here Are Some Pokéfacts, Just for Fun
A lot of you already know this, but for those who don't, the word Pokémon means "Pocket Monsters" (and there are quite a few layers of meaning there too). But specifically, it is an abbreviation of "Poketto Monsutā."
There are 1008 Pokémon! Okay, there are probably disputes to be had here and things to interpret and debate, but essentially there are 1008. The first generation introduced us to just 151. There are now nine generations! How many can you name? How many have you caught? No, seriously, come and tell us and your fellow trainers.
The trading cards were released in 1998. Since then, more than 30 billion (!) have been sold world-wide. How many of those do you wanna bet are Fire Energy cards? Wink.
Many Pokémon were inspired by various spirits, or Yokai, found in Japanese mythology. Vulpix, for example, bears a certain resemblance to Kitsune – a famous, fiendish fox spirit found in many myths. For those of you who want to nerd out, here's an interesting little list of Pokémon vs Yokai.
We don't believe there's anyone out there who has not at least once wished that Pokémon were real. We exaggerate, admittedly. But the fact that Pokémon Go has been downloaded by something like 750 million people, and that more than eighty billion Pokémon have been caught on the app, tells you that we are far from alone in that wish. And so are you.
Happy Pokémon Day!