Never Saw Me Coming by Vera Kurian
As you know by now, we're passionate about promoting debut novels and championing masterful new voices in fiction.
This month, our chosen debut is an absolute treat for fans of both true crime and crime fiction. It's a gripping new psychological thriller that explores the very core of psychopathy – a book that challenges prevalent notions and popular myths surrounding personality disorders and empathetic deficits without compromising on raw thrills and dark suspense.
The Author: Vera Kurian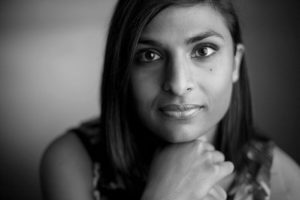 Debut novelist Vera Kurian is a scientist with a PhD in Social Psychology. The bulk of her PhD research concerned intergroup relations, ideology and quantitative methods. She's also a writer and blogger whose favourite topics include horror movies, existentialism and pop culture.
Her backgrounds in research and psychology (as well as her taste for horror) mean that her crime fiction can't help but be infused with extra insight and authority. Which brings us to…
The Novel: Never Saw Me Coming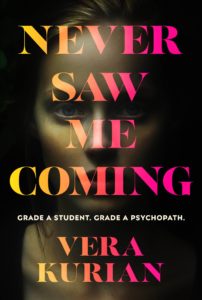 We seem to have this strange notion, thanks to, well, just about every media platform, that a psychopath is automatically a murderer. Or at least a criminal or a sadist. But the truth is that psychopaths are all over the place. Some estimates suggest that only 1 in every 100 people with psychopathic traits ever commit an act of violence.
Never Saw Me Coming begins with a unique enticing premise. John Adams University's psychology department is conducting a secret clinical study based around seven young diagnosed psychopaths. Each of the participants will wear a smartwatch that will track their movements and their moods.
Chloe Sevre is part of this study. She is a highly intelligent student and diagnosed psychopath who seems like your typical party-going, yoga-posing first-year. She has trouble with empathy and emotions like fear and guilt. Not that you'd necessarily notice. She also never stops plotting to kill Will Bachman – who once did her wrong.
When a string of murders erupts across campus, Chloe is forced to shelve her ongoing scheme. Now, she cannot focus exclusively on being the hunter as she may be prey herself. Can she trust the other psychopaths? Whatever happens, uni life will have to wait: she has a plan to put into action and a killer to identify.
Never Saw Me Coming is a wildly compelling, voice-driven thriller that's perfect for fans of Killing Eve, The Secret History by Donna Tartt and Alex Michaelides' newest novel The Maidens. It'll have you rooting for a dangerous anti-heroine as she manipulates her way to the book's dazzling conclusion. Wickedly clever, hugely entertaining and full of conflicting tensions, this is a debut that craves your attention… and will get it no matter what.
Happy Reading!