Agonising separations, thrilling mysteries and life-defining twists of fate, here are six brand new novels that will keep your hearts racing and your minds reeling. Take a look:
Songbirds by Christy Lefteri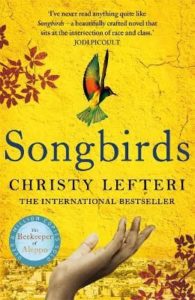 With The Beekeeper of Aleppo, Lefteri established herself as an elegant storyteller with a knack for thoughtful, meaning-filled narratives. She now returns with a moving and layered work that illuminates class, race, hope and striving as it tells the tale of an overlooked immigrant.
Nisha spends her days without fanfare, caring for somebody else's home and family. And night, she tries to be the best mother she can to her daughter. She came from Sri Lanka to Nicosia, Cyprus, hoping to give her child a better life. Soon, she hopes, she will marry her love Yiannis – a poacher who makes his living capturing songbirds as they set off each year for Africa.
One night, however, Nisha goes out on an errand and does not return. The Nicosian police write her off as another vanished domestic worker, but her employer, Petra, has other ideas. Taking up the investigation herself, Petra quickly comes to realise just how little she knows about Nisha. As she searches for her disappeared employee, she comes into contact with a community of people whose lives have been defined by vulnerability, tragedy and impossible choices, finally coming to learn just how much Nisha has devoted to the new life from which she now seems to have been taken.
Giving voice to the immigrant experience and weaving memorable characters into a complex tapestry, Songbirds is a beautiful and heartbreaking read.
The Maidens by Alex Michaelides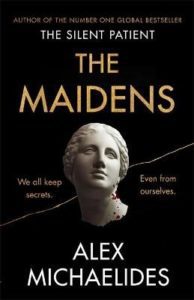 Michaelides' previous novel The Silent Patient twisted a domestic mystery into an exceptional literary thriller that became a beloved bestseller. With his new book, he defies expectation to bring us another extraordinary thriller that might just be even better than his first.
Conjuring a heady mix of mythology, psychology and murder, The Maidens is a breathtakingly original, stylish and sinister additional to the world of super-smart crime fiction.
St. Christopher's College Cambridge is an elite world of its own. But behind its veneer of classic beauty and intellectual splendor something more primal thrives. Charismatic and seemingly unimpeachable professor Edward Fosca wields sinister influence over a group of select female students known as the maidens.
Troubled therapist Mariana Andros knows that Fosca had something to do with the murder of student. She is convinced he is a murderer, and her personal connection to the tragedy only cements her certainty. She just doesn't know why he did it. Or why he is able to operate untouchably. A second victim sends her convictions spiralling into obsession… and begins to unravel everything.
Through its stylish take on Hellenic myth and its tight focus on love, grief and control, The Maidens makes for a thriller unlike any other: a gripping read that keeps the pertinent questions at the fore.
The Husbands by Chandler Baker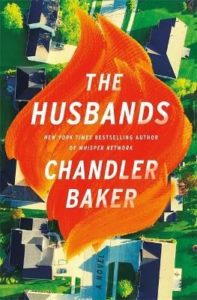 Like a furious Stepford Wives gender-swap, The Husbands is a feminist thriller sensational in its impact and thoughtful in its treatment of ongoing gender disparities.
Nora is a successful, powerful woman. And yet, at home, she is still responsible for the bigger share of the daily domestic work. She loves her husband, Hayden, but she resents that their life does not take the toll on him that it does on her. Why does the wife always seem to work harder?
When Nora and her husband go house hunting in an exclusive suburban neighbourhood called Dynasty Ranch, Nora encounters a group of high-achieving women who do not seem to struggle, as she does, to get everything done. In Dynasty Ranch, it's the husbands who make the sacrifices, the husbands who take care of the mundane and taxing aspects of family life.
When she becomes involved in the death of a resident, however, Nora begins to catch a glimpse of the secrets that might explain the way this place works – the way these women can continue to have it all. And these are secrets that the powers behind Dynasty Ranch's feminist haven will kill to keep safe.
As likely to inspire frenzied discussion as it is to inspire cheers, gasps and tears, The Husband is relevant, fierce, thrilling and fun all at once.
How To Save a Life by Eva Carter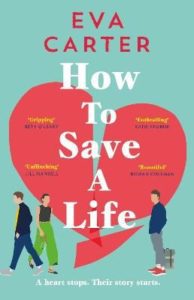 An epic love story, a compassionate exploration of sliding-doors style fate and choice and a legitimately memorable debut, How To Save a Life presents an authentic dive into the mess and messiness of real life.
Sometimes saving a life is only the start of the story . . .
For Tim, Kerry and Joel, it's a single event that defines their lives. On the eve of the millennium, at around midnight, eighteen-year-old Joel's heart stops. Tim freezes, but Kerry is able to save Joel through twenty agonising minutes of CPR. It's an event that bonds them for life, despite how their lives change over the next twenty years. Each time that each of them thinks they have found their proper path or discovered the love they are looking for, they are pulled back into each other's orbits.
The Rising Tide by Sam Lloyd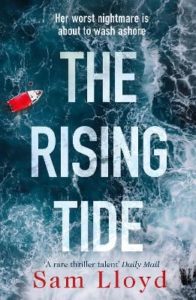 The news doesn't strike cleanly, like a guillotine's blade. Nothing so merciful. This news is a slovenly traveller, dragging its feet, gradually revealing its horrors. And it announces itself first with violence – the urgent hammering of fists on the front door.
 Claustrophobic, brilliantly evocative of the harsh freeze and rugged uncaring of the English coast… and downright terrifying, The Rising Tide is as tense a thriller as you could hope to read.
Lucy, her devoted husband and her two children have a good, ordinary, happy life in their beautiful home on the Devon coast. But that changes in an instant. When the family yacht is discovered abandoned far from the shore, Lucy begins to wonder how it got there. And then, when her husband does not show up, she stops wondering and begins to fear the worst. Did he take the boat out? And where is he now?
Just as Lucy is beginning to piece together the events that led to this point, an unthinkably massive storm seriously impedes the rescue effort. And then she discovers a single secret that changes everything and leaves her stranded in a new hell.
With an ingenious narrative that is turned on its head over and over as new waves of tension and discovery buffet both reader and character, The Rising Tide is a top notch compulsive chiller.
The Girl Behind the Wall by Mandy Robotham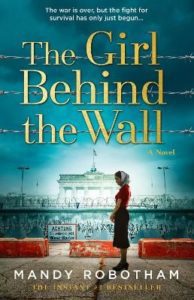 A thriller that lingers on the true damage done by the erecting of the Berlin Wall, and the impossible choices that it impelled, The Girl Behind the Wall is a tale of war, family and historic tragedy from a writer at the top of her game.
Overnight, thanks to the culmination of years of unrest and deadly feuding, Karin finds herself on the wrong side of her city. Trapped in East Berlin and smothered by oppressive Soviet rule, she is separated from her twin sister Jutta. Forced to lead their lives in parallel for many years, Karin struggles to find a reason to carry on. But there are some glimmers of hope. Otto, for example, a man who compels her to trust in some sort of resolution.
When Jutta finds a gap in the wall, the sisters are reunited at last, relieved for a brief moment until Karin realises that she has a choice to make: defy the all-seeing eyes of the Stasi and break into the West or sacrifice the freedom she has craved for so long in order to follow her heart.
Fast-paced, haunting and brimming with historical truth, The Girl Behind the Wall is a heartbreaking story of separation from one of the world's most gifted historical novelists.
Happy Reading!