Starfell and Willow Moss
The New Book and a Series Overview
The first outing of Willow Moss – a young witch struggling to find her worth in a family of skilled spellcasters – came in the form of Willow Moss and The Lost Day back in 2019. Right from the start, author Dominique Valente packed the series full of inventive fun, loveable characters and gentle insight. It's the perfect series for readers of eight and up, and is especially great for kids who love a bit of magic and those who are unsure of themselves and their talents.
And now the fourth book is out! Read on for more about the new book, and for a quick recap of the series so far.
Starfell: Willow Moss and the Magic Thief by Dominique Valente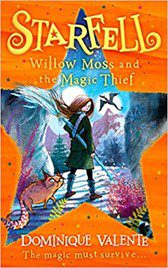 Misfit witch Willow Moss is at last coming into her own. But there's no time to rest as the wizard Silas will not stop in his quest to steal all the world's magic for himself. As Starfell stands on the brink of disaster, Willow is determined to do her part. But what can she do when her powers have already been taken?
But Willow has heard of an ancient beast living in the Mountains of Nach: a creature named Craegun who is rumoured to be able to restore anything that has been lost… for a price. The Mountains of Nach lie at the end of a long and dangerous road, and the journey will be fraught with difficulties, but if Silas is to be stopped, Willow is going to need her magical abilities. Supported by a band of fast friends, Willow sets off on the trickiest of her missions yet.
Willow Moss's fourth adventure is an epic fight for all that's right – an exciting story filled with resilience, real kindness and friendship.
The Starfell Series So Far
Willow Moss and The Lost Day (Starfell Book 1)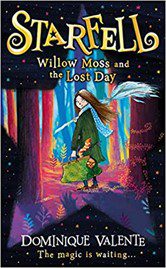 Here's where it began. When we first met Willow Moss, she was struggling to figure out her place in her family. She's the youngest and seemingly least powerful of her talented witch sisters, and she's not sure if she has anything special to offer. Sure, she does have a certain gift for finding lost things – which is great if you're missing a sock or a bunch of keys, but you couldn't really call it an exciting ability.
That is, until the most powerful witch in all of Starfell turns up wanting her help. It seems that a whole day has gone missing, last tuesday to be exact, and unless it can be found, the fabric of the world will quickly unravel. So, it looks like Willow's boring old finding skills are exactly what Starfell needs. Can she find her strength and save the (Tues)day?
Willow Moss and The Forgotten Tale (Starfell Book 2)
So, Willow and her special gift for finding that which has gone missing did in fact manage to find that missing day and return order to the universe. She's feeling quite good about it, as you would. But. For some reason, no one can remember it! On top of that, it seems that Willow's abilities are now broken. Now she has a knack for making things randomly vanish, whether she wants them to or not. Which is not ideal. Especially when her friend Sometimes needs her help.
Sometimes can see into the future by exactly ten minutes. In this case, that's just enough time to see that he is about to be kidnapped. His only chance is to leave a note for Willow asking her to help – after all, nobody is better at finding things, right? On Sometimes's trail, Willow and her friends must venture deep into the magical forests of Wisperia – but can they be sure they're on the right path with Willow's abilities still on the fritz?
Willow Moss and The Vanished Kingdom (Starfell Book 3)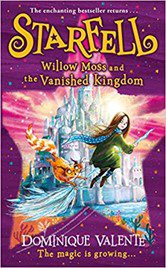 With all the adventuring that Willow's been up to, it's easy to forget: school is important too. And change has come to Starfell. For the first time, magical kids like Willow and her friends are allowed to go to school with non-magical kids. Which could be great. But it could also be something else. Especially since Willow knows that the Brothers of Wol rarely have pure motives. Why have the rules been changed so suddenly?
On her first day of this new school arrangement, Willow meets Twist – an elf girl with an interesting story to tell. And before she knows it, she's on her most important mission yet: to guard the source of all magic from those who wish Starfell harm and to solve the mystery of the long-lost kingdom.
If you haven't yet, be sure to join Willow Moss in her world of adventure and magic.
Happy Reading!