There are many ways to celebrate the women in your life. There are many ways, too, to celebrate all the women of the world. But, and you may already have guessed our position here, the best way, naturally, is with books! The best way involves sharing directly in the lives of women. Now, just about every kind of writing can reveal the experiences of a writer, but no form does that quite as directly or as memorably as the memoir. So we figured we'd focus on some of that.
This women's month, because it is a sure way to celebrate the experience and wisdom that women ceaselessly bring to the world, we are bringing you six exceptional works by exceptional women at terrifically discounted prices. After all, it shouldn't have to cost you a lot to share in the artistry and brilliance of the best women around. What we have here is a collection of renowned memoirs – a veritable wealth of insight and well-written savvy.
Feast your appreciative reading eyes, then, upon the six tremendous memoirs below (and their equally excellent prices).
Bassie: My Journey of Hope by Basetsana Kumalo – Was R220, Now R189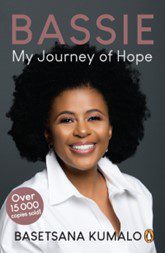 Television personality and entrepreneur Basetsana Kumalo first found fame as winner of the Miss South Africa pageant in 1994. Since then she has branched into numerous successful endeavours on and off camera. As a presenter on Top Billing she was afforded the chance to travel extensive and to interact with a number of iconic people, as an ambitious entrepreneur she has built a business portfolio that covers many fields (which include management, investment and telecommunications companies) and as a philanthropist she has successfully advocated for a variety of causes, many of them concerning children.
This celebrated memoir explores the journey that brought her to the life she has today. Bassie takes a look at some of the most formative and high-profile relationships that she has had during her twenty-five years in public life – relationships with the likes of Nelson and Winnie Mandela, and Graça Machel – as well as the ones that have had the greatest impact on her personal life, from the wisdom imparted by her mother to her marriage with Romeo Kumalo. It isn't all glamour and fame, though. Kumalo also talks with frankness about her experiences with domestic abuse, her long-time stalker, enduring cyber-bullying, the pressures of a very public marriage and the legal battles that she has had to face in order to maintain her impressive empire – including the sex-tape allegations that threatened her family and career.
Intimate and candid, Bassie is a book full of success-secrets, lessons learned and remarkable reminiscences.
Untamed by Glennon Doyle (Nonfiction) – Was R350, Now R320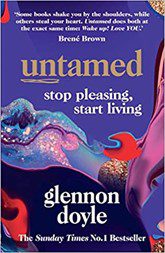 A powerful activist, and the leader of a Together Rising – an all-woman led non-profit organisation that tackles crises of every kind (from opioid addiction and difficult pregnancies to cancer and domestic abuse) – Glennon Doyle, as well as being a bestselling author, is a force to be reckoned with.
If Untamed had a mission statement, it would be: Stop pleasing, start living. It's a book that unquestionably collects a heap of essential advice for women and LGBTQ+ people everywhere. It's tender and it's forceful – it needs reading.
Glennon Doyle fell in love at a conference, with a single look. The woman she had locked eyes with, she was sure at once, was the one. But decades of addiction, social conditioning and unreasonable expectations made claiming her true self difficult. This is the spirited, galvanising story of how she learned to make peace with herself, accept her body, claim her anger and heartbreak, set the right boundaries, liberate the right instincts and show her daughters how to live for themselves.
Brave, righteous and empowering: this is an essential memoir of awakening, empowerment and acceptance.
Women Who Run With The Wolves by Clarissa Pinkola Estes – Was R350, Now R285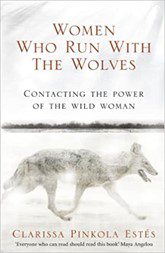 If you ever find yourself involved in a discussion of feminist literature or of the female psyche or even of the myths commonly applied to women – and we hope that you do find yourself in these discussion – there's a good chance that Women Who Run With Wolves will be mentioned.
A feminist classic and as good an exploration of the female psyche as has ever been written, Women Who Run With the Wolves is a work of wisdom and love that explores the "wild woman" that resides within every woman and that can be unleashed as a creative, generative force and harnessed as a tool for defying the male-imposed system that dismisses women's emotions and drives and diminishes the value of female experience.
Using a combination of traditional, timeless stories and cutting-edge casework, psychoanalyst and famed storyteller Clarissa Pinkola Estes convincingly argues for the inclusion of primal, innate femininity in all aspects of life as a way to tap into a greater sense of direction and self-confidence.
Educated by Tara Westover – Was R240, Now R215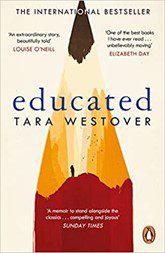 There are a great many memoirs about overcoming adversity. But there are very few memoirs quite like Educated. Not only is it a singular story, it's a book filled equally with startling, almost indescribable hardship and mind-blowing triumphs. And all this is made the more impressive by the fact that Tara Westover was seventeen the very first time that she ever stepped into a classroom.
Tara Westover grew up in rural Idaho. Her father radically espoused a vision of the End of Days replete with raining blood and a blackened sun while her brothers grew ever more violent. She had no birth certificate and had never glimpsed the inside of a classroom. She was not allowed to see a doctor or go to a hospital. She was not allowed to interact with wider society at all.
It was not until she turned sixteen that Tara's determination to re-invent herself through education led her to the conclusion that she needed to leave. Her path from the mountains of her childhood led her eventually to Harvard and Cambridge where she found not only the education that she sought but also the sense that in her quest she had travelled too far, broken too many ties. But by then, perhaps, it seemed that she might never get home.
A heart-filled, insightful and stirring memoir dedicated to the pursuit of learning and knowledge against insuperable odds and outlandish circumstance; if you have ever felt that there was something you just couldn't learn, Educated is just what you need.
The Choice by Edith Eger – Was R265, Now R229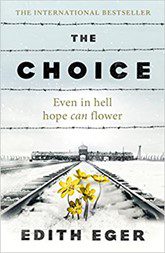 With The Choice therapist, renowned speaker and Auschwitz survivor Edith Eger delivers a highly philosophical memoir in which agonising experiences and unbearable cruelty are conquered by indomitable will: the will not to be the victim, the unflagging determination to look forward and embrace what is possible rather than what is not.
Today Dr. Egers' patients include abuse survivors and soldiers suffering from PTSD. The Choice is her story.
During her imprisonment, Eger endured unfathomable torments – some even at the hands of the notoriously evil Josef Mengele himself – but her spirit was such that not only did she survive, but her bravery was a beacon to those around her. Found barely alive when the camp was finally liberated, the young Edith returned to the world with unimaginable stories, but, more than that, she brought a light that so sorely needed sharing. Her story teaches that the human mind will so easily imprison itself if it is allowed to and that freedom is only possible when we choose to confront suffering instead of burying it.
An eternal message of hope and resilience, The Choice is a work of rare wisdom and compassion; a tale of survival and meaning that offers life-changing clarity.
Becoming by Michelle Obama – Was R320, Now R290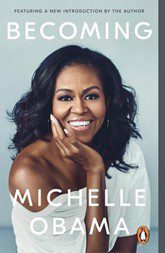 Michelle Obama might not be in the public eye as much as she was a little while back, but you'd be hard pressed to find anybody unaware of the things that she represents and the causes she has championed. This, in all its remarkable candour and truthfulness, is a book that reveals even more about a truly exceptional person, a driven yet realistic idealist and a talented storyteller. It's as entertaining as it is revelatory.
Former First Lady of the US, Michelle Obama is one of the most compelling women of our age. Through a life filled with achievement, she has advocated on behalf of health, women around the world, education and unity. In this witty, honest and captivating memoir, Obama recounts her triumphs and disappointments – from her childhood in Chicago to her years at the White House – sharing her unique warmth and wisdom along the way.
Daring Greatly by Brene Brown – Was R240, Now R215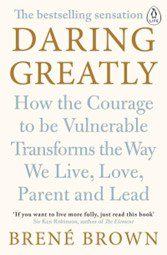 Social scientist Brené Brown continues, with this and more recent releases, to generate a significant following through her research-based and accessible approach to personal psychology and emotional wellness. You'll probably find, as we have, that those familiar with Brown's approach to life tend to be pretty lovely people – which is certainly something.
Daring Greatly is the compelling culmination of a dozen years of rigorous research into the patterns and misconceptions that seem to relentlessly govern how we make our homes, how we parent our children, how we handle work and how we relate to each other. And it's mostly about vulnerability – a concept and a capacity far too often conflated with weakness. For all of us who have ever felt guilt or shame about the ways in which we are vulnerable, this is an essential , empowering volume: a book that convincingly demonstrates the gifts inherent in being vulnerable. Since we're celebrating women here – and women are still all too often subjected to warped and unkind ideas about weakness – Daring Greatly is especially appropriate.
Happy Women's Month
Happy Reading
Be As Good As You Can Possibly Be to Yourself, the Women in your Life and the Women of the World.